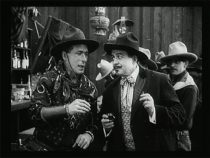 Barbican Cinema, the home of silent film in London, opens the autumn season of its long-running Silent Film & Live Music series with a delectable double bill, The Ghost That Never Returns and Hell's Hinges, plus live musical accompaniment from The Dodge Brothers featuring Neil Brand.
The Ghost That Never Returns is set in an unnamed South American country, where labour leader José Real is jailed for his activism at an oil well. But when the police graciously release him for one day of freedom with his family, they try to use it as pretext to kill him. Hell's Hinges sees a preacher arrive at the sin-ridden town of Hell's Hinges with his sister, but gunslinger Blaze Tracey tries force them out of town. Co-director W.S. Hart, one-time highest grossing star of the silver screen, plays the bad guy turned good by the love of a true woman.
The Dodge Brothers, firmly rooted in the traditions of classic Americana, play an exuberant hybrid of country blues, rockabilly, and skiffle. They feature Mike Hammond on lead guitar and banjo, Aly Hirji on rhythm guitar and mandolin, Alex Hammond on percussion, and film critic Mark Kermode on bass and harmonica. For this special performance at Barbican, the band is fronted by Neil Brand, one of the UK's foremost pianists for silent film and well known as a TV presenter on BBC4. Watch out for some dazzling musical motifs, the raunchy vamps of Jelly Roll Morton and the sounds and songs of desperate times.
The double bill screens on Sunday the 25th of September. For more information go to barbican.org.uk/film
Latest posts by
John McArthur
(see all)