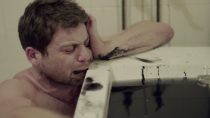 In association with Soda Pictures we are offering the chance to win a copy of Observance on DVD. In the grip of grief following the death of his young son, his marriage on the rocks and nearing bankruptcy, Parker (Lindsay Farris) reluctantly returns to work as a private investigator. Embarking on an unusual assignment to observe a woman from an abandoned apartment, Parker witnesses bizarre and terrifying happenings surrounding her, oblivious to the dark presence threatening to consume him.
The second feature from filmmaker Joseph Sims-Dennett, Observance is a terrifying and suspenseful film critics are hailing as the very definition of psychological horror.
To win a copy of the film please answer the following question.
What is the nationality of the film's director Joseph Sims-Dennett?
Please send your answer to competition@moviescramble.co.uk with subject Observance. Please include your name and postal address. The competition will close at 23:59 pm on Thursday the 20th of October 2016. Moviescramble will not pass on your details to anyone else.
Observance is out now on DVD.
Editor-in-Chief at Moviescramble. A Fan of all things cinematic with a love of Film Noir, Sci-Fi and Julia Roberts in Notting Hill. He hopes to grow up some day.
Latest posts by John McArthur (see all)