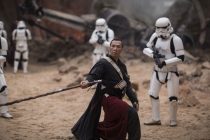 Just released is the final trailer for the forthcoming film Rogue One: A Star Wars Story. The film tells the tale of how a rag tag band of rebels, led by Jyn Erso (Felicity Jones), who take on the almost suicidal mission to steal the plans for the empires ultimate weapon, the death star.
The trailer should calm any fears raised by the frankly hysterical news reports that the film required reshoots and re-evaluation after Disney were not happy with the way that Gareth Edwards was fashioning the story.
The trailer gives some insight to the underlying themes of the film and some tantalising glimpses of the various members of the Rogue One team. Donnie Yen gets bit of special attention and his character is one that could easily become a fan favourite.
Rogue One: A Star Wars Story is released on the 16th of December.
Editor-in-Chief at Moviescramble. A Fan of all things cinematic with a love of Film Noir, Sci-Fi and Julia Roberts in Notting Hill. He hopes to grow up some day.
Latest posts by John McArthur (see all)