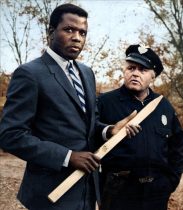 MGM Studios' In the Heat of the Night will return to cinemas on 18 November as one of the key titles in BFI Black Star; a nationwide season of film celebrating the range, versatility and power of black actors.
One of three releases in 1967 that would cement Sidney Poitier's position as the pre-eminent black actor of his generation, In the Heat of the Night is a taut culture clash thriller that first hit cinemas in the midst of the Civil Rights Movement.
The legendary Bahamian-American actor stars opposite Rod Steiger as one half of an odd couple police duo tasked with solving a murder in a southern town bristling with racial tension. Support comes from the ever reliable Warren Oates and the film is directed by Norman Jewison. Celebrated on its initial release with 5 Oscar wins, including Best Picture, its representation of American race relations and law enforcement remains strikingly relevant.
Latest posts by
John McArthur
(see all)