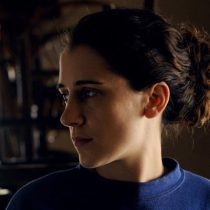 The power of the moving image and its influence across the arts is celebrated by the Barbican throughout 2017 with Film in Focus – a series of world-class arts and learning projects, commissions and events that celebrate the medium of film. As part of Film in Focus, Barbican Cinema, in collaboration with the London Film School and Women in Film & Television, will present a series of six 'In Conversation' sessions highlighting the impact of women in the film industry, beginning with this special preview of The Levelling from first time feature director Hope Dickson Leach.
Conversations with Women in Film begins with a special preview of The Levelling, from first time feature director Hope Dickson Leach. Dickson Leach has worked with director Todd Solondz, been named a Star of Tomorrow by Screen International and is the 2016 recipient of the BFI's inaugural IWC Filmmaker £50k Bursary Award, 'the most significant bursary of its kind in the UK film industry'.
Set in the aftermath of the 2014 Somerset floods, trainee veterinarian Clover Catto (Ellie Kendrick) returns home one day to the farm where she grew up after hearing news that her brother Harry has passed away. Finding the family home in ruins following recent floods that devastated the area, Clover is forced to confront her father Aubrey (David Troughton, The Hollow Crown) and the dark cloud that hangs over the farm. As time passes, Clover's discoveries send her on a journey of reckoning – with the land, her family and herself.
Hope Dickson Leach will take to the stage following the screening to discuss her burgeoning role in the film industry.
Latest posts by
John McArthur
(see all)