Now considered one of Hollywood's leading action stars, Liam Neeson wasn't always the go-to man for high-octane thrills. His big breakthrough was in Steven Spielberg's war drama Schindler's List which he followed with Christmas rom-com Love Actually, before the Taken saga propelled him to action thriller infamy. It's fair to say that Neeson has collated an extremely eclectic list of films for his CV.  Neeson returns this month in his first war film role in over a decade: Operation Chromite  a compelling, tense and dramatic portrayal of the operation that turned the tide of the Korean War, in which he displays his versatility more than ever. Let's take a look at his most accomplished roles to date.
Operation Chromite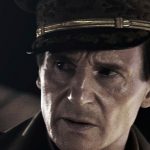 Inspired by real events in the Korean War, Operation Chromite brings to life the clandestine mission that paved the way for a dramatic invasion that is regarded as one of the greatest landing operations in military history. The film follows the efforts of UN Supreme Commander, General MacArthur (Neeson), to regain control of the North Korean occupied Incheon. In a bid to achieve this, he directs special covert officers to collect intelligence by going undercover as a North Korean inspection unit, led by Captain Jang Hak-soo. However, when their cover is blown they have one last chance to regain control of Incheon and recover their footing in the war, facing near impossible odds.
Schindler's List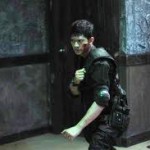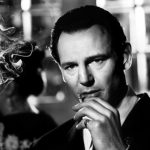 The one that put Neeson on the map and arguably his best performance to date: Steven Spielberg's multi-Academy Award Winning war drama Schindler's List. Neeson plays Oskar Schindler, a German businessman in occupied Poland who employes – and thus saves the lives of – hundreds of Jewish people at a time when all of Krakow's Jews are assigned to the Plaszow Forced Labour Camp. Schindler's factory (refitted to manufacture ammunition) is the only thing preventing his staff from being shipped to the death camps. Schindler demands more workers and starts bribing Nazi leaders to keep Jews on his employee lists and out of the camps. By the time Germany falls to the allies, Schindler has lost his entire fortune but saved 1,100 people from likely death. Schindler's List is a dramatic masterpiece that blends the abject horror of the Holocaust with Spielberg's signature tender humanism.
Star Wars: Episode 1 – The Phantom Menace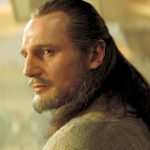 The first return of the biggest movie saga in the world and ultimate sci-fi popcorn flick was highly anticipated in 1999, no less because it boasted a star-studded cast including Ewan McGregor, Natalie Portman and Mr Neeson. The Phantom Menace would be the first of a trilogy of stories to trace what happened in the intergalactic saga before the first film began. Neeson plays Jedi Knight Qui-Gon Jinn, tutor to Obi-Wan Kenobi (played in this film by McGregor), who meets Anakin Skywalker (Jake Lloyd) on Tatooine and is soon convinced that the boy could be the leader the Jedis have been searching for.
Love Actually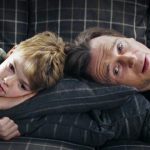 The soft-centred jewel in Neeson's acting crown is undoubtedly 2003's iconic Love Actually. In this rom-com classic Neeson plays Daniel, a recently bereaved father of one trying desperately to do the best he can for his precocious young son, Sam (played by Thomas Sangster), now his wife has passed on. Despite occupying one of the sadder storylines in a film that tugs at the heart strings throughout, Neeson's dry delivery and rapport with Sangster injects a welcomed dose of bittersweet humour. Neeson's performance marks yet another high point in his incredibly eclectic filmography, proving his adaptability as an actor.
Batman Begins (2005)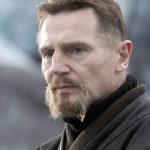 It can definitely be said that Neeson is good at being bad – and none more so than as leader of The League of Shadows, Ra's al Ghul, in 2005's Batman Begins. What is perhaps most chilling about Neeson as Ra's is that, unlike his showy villain counterparts, The Joker and The Penguin, he manages to be terrifying without any masks, prosthetics or theatrical costumes. Ra's is an intellectual match for Batman (played by Christian Bale) and the part fitted Neeson to a T, calling on his air of power and authority to create a genuinely menacing yet understated villain.
Taken

The one that established Neeson as a bona fide action star, Taken. Now a completed trilogy, the Taken saga sees Neeson play an ex-soldier with "a particular set of skills", Bryan Mills, who travels through Europe on frantic quests to rescue his daughter (Maggie Grace) and wife (Famke Janssen), and kill their abductors. Taken is now considered a cult classic, most notably for the "I will find you and I will kill you" soliloquy and the thousands of memes and GIFs that flood the internet as a result.
Latest posts by
John McArthur
(see all)