2016 won't be looked back upon memorably by most but it wasn't all doom and gloom. Some of the studio's heavy hitters fell short while a few gems broke through the dusk proving that there was some fun to be had in a year where we lost so many iconic figures.
Below is a list of my top 10 films of 2016, notable exceptions and shoutouts go to Suicide Squad (I liked it), Doctor Strange and The Girl With All The Gifts. Sacrifices were made.

10. The Conjuring 2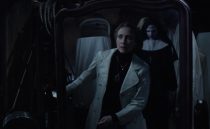 Modern horror maestro James Wan returned with The Conjuring 2, a dramatized account of real life British haunting, the Enfield Poltergeist. James Wan proves once again why he's the modern master of horror as he delivers an unsettling experience that opts to create fear over going for cheap scares. With a tight script and solid cast, Joseph Bishara's nightmarish score helps elevate the film above its rivals. Don't watch it alone
9. The Nice Guys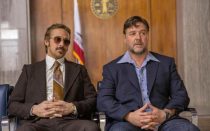 Russel Crowe partners with Ryan Gosling in Shane Black's The Nice Guys. Crowe's surly and burned out tough guy is a joy to watch but it's Gosling that steals the show with his hilarious performance that airs on the right side of parody. The film is very self-aware and despite the comedic nature, the tone is able to turn on a dime and silence the laughter as effortlessly as it starts.
8. Midnight Special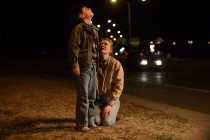 Storytellers are often most effective when they keep it simple. Director/writer Jeff Nichols does this brilliantly in sci-fi flick Midnight Special. There are many layers to this spooky tale but Nichols only ever reveals what's necessary, never allowing the plot to get dragged down by needless exposition. A remarkable film that's as gripping as it is fascinating
7. Land Of Mine
I debated whether I could enter this film or not. Although Land of Mine is credited as being released in the UK in 2015, that was at a film festival and as such the film never received a commercial release. I was lucky enough to catch this at the Glasgow Film Festival for its Scottish premiere so I think that qualifies it. For all that has been documented of World War II there are many stories relatively unknown, including a horrifying practice by the Allies and their treatment of German prisoners of war. Director Martin Zandvliet drew inspiration from real events to tell Land of Mine, a harrowing tale about revenge, compassion and innocence lost. The film is distressing but it's also uplifting, it's not a tale that will be easily forgotten thanks to this excellent drama.
6. Green Room
Not all horror includes supernatural monsters and otherworldly demons. Sometimes the biggest monsters are very real as a hardcore punk group found out in Green Room. After witnessing a murder, the Aint-Rights find themselves trapped in a nightclub's green room with a gang of neo-Nazis thirsty for their blood. An unflinching and violent tale, Green Room shows Patrick Stewart turn in a wonderfully ghastly performance. It also features Anton Yelchin in one of his last film's released before his tragic death.
5. Captain America: Civil War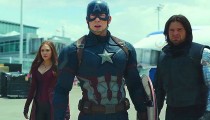 You'd be forgiven for believing superhero fatigue was a myth considering the box office numbers generated in 2016.  While Warner Brothers fell afoul of critics but still raked in a lot of cash, Marvel wowed everyone with the truly spectacular Captain America: Civil War. Marvel's favourites (minus a couple) were thrown into conflict producing some thrilling drama and exceptional action
4. Zootropolis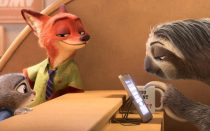 Early in 2016 Walt Disney released their 55th animated feature, Zootropolis. This is a world where animals have evolved to a more human state and features some of the best exposition I've seen to explain how that came about. With lovable and cute characters, the plot deals with discrimination in a not so subtle way but neither is it preachy. Instead it's a warm tale full of joy albeit with a deeper message. A brilliant cast helps bring the animation to life with many laughs along the way.
3. The Big Short
The banking crisis and subsequent financial Armageddon doesn't sound like it was tailor-made for laughs but that's exactly what Adam McKay provides in The Big Short. Co-written with Charles Randolph, based on Michael Lewis's book, the film is a brutal whirlwind tour of the financial crisis of 2007. Boasting an impressive ensemble cast including Christian Bale, Steve Carell, Ryan Gosling and Brad Pitt, The Big Short is hilarious, though provoking and ultimately frightening
2. Rogue One: A Star Wars Story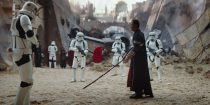 The wildcard entry to the Star Wars saga. While not counting as an Episode in the epic space opera, Rogue One was to be a stand-alone story that also served as a prequel of sorts to Episode IV. The tone was different as was the overall feel to the movie but it did't stop Disney from hitting it out the park again. More than a nostalgia trip, Rogue One was a different side of the coin, with Gareth Edwards lending a more sombre gaze to events. Truly magnificent with a third act that stands beside the best of the franchise.
1. Fantastic Beasts and Where to Find Them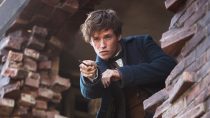 The Harry Potter series may be over but the franchise was given a new breath of life in Fantastic Beasts and Where to Find Them. Directed by David Yates and written by J.K. Rowling, Warner Brothers placed their new chapter to the wizarding world in good hands. With exhilarating thrills and stimulating visual, Fantastic Beasts was sure to leave audiences with a huge smile plastered on their faces as the credits rolled.
Latest posts by Thomas Simpson
(see all)