Let's face it; it's a fairly daunting task to save the world all by yourself.  Not to mention, doesn't having a partner by your side make fighting crime and evil so much more fun?  We think so. From Han and Chewie to Jonah Hill and Channing Tatum in 21 Jump Street, we continue to enjoy watching co-dependent male partners on film.  Here's a look at some more of our favourite duos that give new meaning to the term "partner in crime."
Han Solo & Chewbacca
Perhaps it's the contrast of a partnership that is one half furry, one half human, but few bromances are more endearing than that between Hans Solo and Chewbacca.  One of the toughest partnerships in space, Han and Chewy are nothing but a pair of softies in each other's presence.  We need not understand Chewbacca's native tongue, nor see his face behind all that fur to understand the love in both his words and face when communicating with Han.  Likewise, as lethal as Han may be as an opponent, he is powerless to the requests of his beloved partner.  Leia may have written Han Solo off years ago, but at least Han can always count on Chewy to be his trusty sidekick. 
Roger Murtaugh & Martin Riggs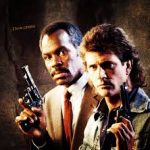 Riggs and Murtaugh: like salt and pepper, like peanut butter and jelly, like cookies and milk; though completely different, these duos are simply better together than apart.  When seasoned Vietnam vet and long-time LAPD homicide detective, Murtaugh, and volatile ex-special forces and LAPD narcotics officer, Martin Riggs are forced to team up on a homicide case, neither man is at his best.  Murtaugh has just turned 50 and is feeling a bit insecure about his age.  Alternatively, Riggs is suicidal after the recent loss of his wife.  The relationship starts off on a rough note, however, after Riggs comes through for Murtaugh in a critical moment to save his life, deep trust is solidified between the two.  Murtaugh welcomes Riggs into his home, and we go on to see the dynamic duo  fight badass LAPD crime in three subsequent sequels.
Agent K & Agent J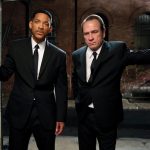 Old school and cool, Agent K and Agent J may have different approaches to just about everything, but when it comes to fighting aliens, one is the yin to the other's yang.  In Men in Black, Agent K was slow to accept Agent J.  However, by the sequel, Agent K has come to look at Agent J as a son.  Agent K has taught Agent J everything he knows, and Agent J has taught him a few things in return.  One of Will Smith's breakout films opposite unlikely partner Tommy Lee Jones.
Woody & Buzz Lightyear
One wears a cowboy hat and carries a lasso, while the other wears a space suit and shoots laser beams for protection.  However, despite differing means of doing so, Woody and Buzz are united by their mutual love for their owner Andy, and duty to protect him and the other toys of Andy's room from harm.  Woody and Buzz demonstrate that the power friendship transcends all boundaries, and loyalty makes a good partnership impenetrable. You got a friend in me…
Frodo & Sam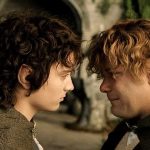 They may not be what we think of as traditional heroes, but this humble hobbit duo make up one of the most compelling bro buddy partnerships to ever touch the silver screen.  When Frodo is tasked with destroying a legendary ring inherited from his uncle, his life-long friend Sam willingly agrees to join him for the perilous journey.  Two sensible hobbits with no previous ambitions for personal heroism, Frodo and Sam bravely fight some of the toughest obstacles ever written.  We love an underdog, and this partnership of two undeniably charming underdogs makes for a surprisingly fierce and deeply captivating team.
Mortan Schmidt & Greg Jenko|
When the high-school heartthrob, Greg Jenko and class nerd, Mortan Schmidt team up seven years later in the police force for an undercover mission as students at their alma matter, their identities get mixed up.  Unsuspecting Schmidt finds himself in the cool crowd, while Jenko struggles through the advanced placement track.  The team help each other navigate unfamiliar territory, and in the end, Jenko learns enough chemistry to make a home-made bomb that saves the day, while Schmidt enjoys a small slice of popularity to give him the confidence he's always lacked.  In a hilarious comedy of errors we see how two unlikely friends help each other to become the best policeman they can be, and an unstoppable force.
Latest posts by
John McArthur
(see all)