Manchester By The Sea is the latest film from acclaimed director Kenneth Lonergan. He is admired for his approach to story telling and his last film Margaret, although delayed for several years due to distribution issues was considered a triumph. So anticipation was high for his new film given the added pedigree of a cast including Casey Affleck, Kyle Chandler and Michelle Williams.
Affleck stars as Lee, a man who is living out a meagre existence as a building superintendent. He appears to deal with life one day at a time with no thought to the future. A phone call changes all that as he finds out that his brother has died. Lee is forced to return to his old home in Manchester to settle up his brothers affairs. Once there he is confronted with some unhappy memories in the form of his ex wife and his reputation. He is also shocked to find that, unknown to him, his brother has left instructions and funds for Lee to take over as his teenage son's (Lucas Hedges)  guardian. Naturally he is totally against this arrangement.
This film is all about the mood created by the main character of Lee. At the start we form an opinion of him based on his everyday life. He appears not to be to keen on human interaction. He does his job but takes no pleasure or interest in the people he serves. In his off time he is pretty much of a similar disposition. In a bar he actively avoids getting into a conversation with the barman and when a drink spillage creates an opportunity to interact with a woman, who is clearly interested in him, he flatly rejects her advances.
I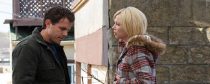 t is only as the story unfolds do we see why this is the case. Due to the fact that his brother was diagnosed with heart disease and certain events from his home life it is clear that Lee has withdrawn in order to protect his sanity. we get a glimpse of him on the edge at one point in the film that reinforces this. Affleck's performance is central in getting this point across. It is a world weary performance with a hint of menace just close enough to the surface for the audience to see.
The story is told in a very subtle way. Lee is the focus at the start but as he is drawn back to his home town the focus shifts onto his relationship with his nephew and how he is struggling with the responsibility. There are no scenes of major conflict or exaggerated behaviour which would the obvious choice for many directors to express the tension. Instead it is all conveyed through conversations and the silences that they produce.
Once more Kyle Chandler provides sterling support. He is only involved for a bout twenty minutes of the run time but has a profound impact. His character is the grounding point for Lee. No matter what Lee throws at him he simply brushes it off and gets on with the business of being his brother. Chandler appears to do very little with the role. This is deceptive as he nails the role. Impressive and always compelling to watch.
Latest posts by
John McArthur
(see all)