La La Land is a modern musical that aims to bring the romance of the classic Hollywood of the 1950s and plant it smack bang in the middle of 21st century LA. It is a courageous attempt to marry old and new Hollywood in one film. That is no mean feat, but it does pull it off. Emma Stone is Mia, an actress working in a coffee shop in LA trying to get her big break, and Ryan Gosling is Sebastian, a jazz pianist trying to realise his dreams while staying true to the 'pure' jazz that is his passion.
The standard meet cutes (when two leads meet in an adorable, clumsy way that makes it clear that despite any resistance on either part, they are going to embark on a dramatic romance) involve a rude Sebastian honking his horn and later spilling coffee. Of course, there are subsequent meetings (including a very a comical eighties style electric keyboard performance by Gosling), and despite their spunky attitudes, of course, they fall in love. Drama ensues as they try to realise their dreams, find some kind of balance between living in reality and creating art, and stay together.
Emma Stone is expertly cast. She stands out in a movie full of stick-thin, glamorous, stereotypical actresses by looking rather geeky, understated and natural. She is beautiful, quirky, intelligent, but most importantly, incredibly human. Although she is not a singer as such, her soft, vulnerable voice only adds further depth to the character of Mia.
Ryan Gosling waltzes in and makes the movie all about him. I was not sure whether I should feel embarrassed when he started dancing and singing in the street, but he does have charm and swagger enough to pull it off, and maybe even enough to give Michael Buble a run for his money. Plus, what's not to love about Gosling in a suit. He does display his incredible acting skills and in one comical scene, even manages to make himself look ugly.
Together, as we already know from Crazy Stupid Love, they make a great couple. They have an incredible chemistry and the quality of their acting cannot be underestimated – very few modern actors could have pulled this off. They not only pulled it off, they are outstanding and will deservedly take home numerous awards for their efforts.
I grew up watching Gene Kelly movies. At about 8 years old, one of my favourite movies was On the Town. I loved the cardboard sets and the surreal dream sequences. The movies of that era had a magical, dreamlike quality. There is no doubt that Chazelle is trying to recreate the way films like An American in Paris and Singing in the Rain captured the characters' fantasies, as well as the charm of Fred Astaire and Ginger Rodgers in films like A Fine Romance, and Top Hat.
At times, he manages expertly, but I can't help feeling that when he is trying to be 'now', it is too glossy, and stylised for my taste. The opening scene of young, lithe dancers cavorting on top of their cars on a freeway in LA was way too over the top for me. The actors' smiles are too forced, the movements too theatrical and the music too cheesy. It felt a little like watching a flash mob. But then, I suspect, that is the point. There are too many gorgeous kids in LA trying too hard to stand out – and by trying too hard, they become dull.
The editing is playful, and I liked the way scenes cut from one perspective to another, from fantasy to reality and back again. Some of the scenes are like exquisite pictures, the pink hues of sunset, the midnight blue sky among stars in a planetarium, all wonderfully captured in cinemascope on what seems like an never ending screen.
Writer and director, Damien Chazelle's last movie was Whiplash, the best musical thriller I have ever seen (if it's not a genre it should be), and La La Land is again, very much about music. And this is where it definitely gets 10 out of 10 from me. During the subtler, more tender moments, the score is enchanting, particularly Justin Hurwitz's piano and orchestral arrangements. It is then that the film really comes into its own and becomes something special. City of Stars and A Lovely Night are beautiful songs that could have been taken straight from a Gene Kelly soundtrack.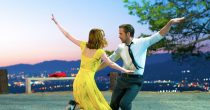 Not only that, if you think you don't like jazz, prepare to be surprised. The jazz pieces are varied and excellent. Mia is not the only one who may be converted to it by the end of the film. John Legend's presence gives the modern jazz music a great deal of credibility. The score is definitely one of the movie's strong points and it stands up there as being as good as any I have heard.
It takes some time to get used to the juxtapositions of classical romantic motifs and themes, and the technology and crassness of the 21st century and therefore it has a little bit of a stop-start feeling during the first half of the film. Like Sebastian and Mia, Chazelle seems to have captured the romance of old Hollywood in his heart but is unsure how to make it fit in with modern reality. That is however, the point he is making – everything is here for us in the 21st century, but at times it can seem like we are constantly interrupted from the wonder of our experiences by the realness of modern life.
When life becomes too real, Mia and Seb die a little inside, as Chazelle is implying we do. The only thing that can resurrect us is music, or genuine human connections, like a very tender act of holding hands at the cinema – proving that although something has been done a hundred times before, with the right actors and the right director, it can still be moving.
There is a lot of intertextuality and movie buffs (the only ones who will know that term) will enjoy spotting the scenes copied from other movies. Film geeks will have copious amounts of fun spotting the scenes referencing famous movies such as Funny Face, and Sweet Charity, and of course, Singin' in the Rain.
In the end, I do believe La La Land does manage to capture the essence of what makes movies magical – the fantasy, the dreaming, the people who live with their heads in the clouds and refuse to come back down. "Here's to the ones who dream," the ones make huge sacrifices to allow us to experience the bliss of escapism that comes with watching a movie. The acting, the music, and the contemplative directing means that we really see what those sacrifices are, making La La Land hugely entertaining, but ultimately haunting.
Latest posts by
Vhairi Slaven
(see all)