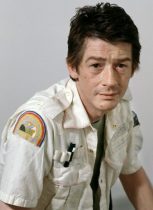 It is with a very sad heart that we note the passing of an actor who is easily entitled to be known as a screen legend. John Hurt passed away today after a long term battle with Cancer. Hurt had a stage and screen career that spanned over sixty years. His breakthrough in terms of recognition came in nineteen seventy five when he played the part of Quentin Crisp. From there he went on to the acclaimed TV adaptation of I, Claudius where he memorably took the role of Caligula. For many, including myself, his most famous role was that of Kane in the first Alien movie. It was a screen death that those who saw it would ever forget. That was only one of a total of forty seven screen deaths the actor would be known for during his time on screen.
His acting career flourished from the eighties onwards . He produced memorable performances for some of the biggest names in Hollywood in films such as The Elephant Man, Only lovers left alive and 1984. In later years a significant role in the Harry Potter series and Doctor Who as the war doctor would bring him to the attention to a whole new audience. He can currently be seen in the Pablo Larrain's Jackie as a priest.
John Hurt was Seventy Seven.
Latest posts by
John McArthur
(see all)