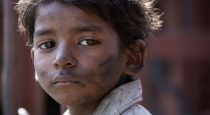 Lion is a thoroughly engaging, human story that will touch you deep in your bones. In my opinion, it is a wonderful film, and you must see it. Director Garth Davis has made an exceptional debut into feature film making, by creating an Oscar worthy film that is extremely emotional, but ultimately rewarding.
Saroo, a five-year old from a rural village in the heart of India, is an intelligent, sensitive boy, full of the wonder of the earth around him. When we meet him, he is fascinated by hundreds of moths in a dusty desert-like landscape, looking very much like a tiny spec in a huge world. This image of a small boy in wide-open spaces is repeated throughout the film and serves its purpose well by making the audience feel his vulnerability.
Fatefully separated from his beloved brother at a train station, Saroo wakes up lost in the city of Kolkata (otherwise known as Calcutta) in 1986. His dramatic journey takes him to Hobart, Tasmania where he is adopted by a middle-class Australian couple. He becomes an intelligent, well-adjusted young man, but begins having flashbacks of his childhood and realises that he must face the ghosts of his past. The film is based on the true-life events of Saroo Brierley (born 1981) and his autobiography, A Long Way Home.
Saroo is portrayed wonderfully by both Sunny Pawar as the child and Dev Patel as the adult. Apparently 4000 children were auditioned before Sunny Pawar was chosen. It's easy to see how this little boy stood out, he has such expressive eyes and perfect little features that your heart may break the minute you see him. He alone drives the first part of the film, showing a depth and understanding well beyond his years.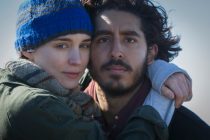 Dev Patel is perfect as the man-boy who cannot mature fully into adulthood until he seeks the answers to questions he has about the first part of his life. He evokes an incredible compassion and understanding as Saroo, particularly when he is struggling to do the right thing. Patel is not only becoming more handsome with each film he makes, but also more talented and engaging. It's hard to believe that he had to audition for over 6 hours for the role (apparently he was too obvious a choice). I can't imagine anyone else in the role.
The supporting cast do their jobs exceptionally well. Nicole Kidman as Sue Brierly, without saying or doing very much, evokes a real understanding of the sacrifice adoptive parents make and the suffering that comes with it. No matter how loving and caring a parent can be; there are some things that cannot be fixed. With David Wenham, as her husband, John Brierly, these experienced actors give plenty of screen presence to the younger actors. Rooney Mara as Lucy is gorgeous and interesting, and she and Dev have a lovely on-screen relationship. Priyanka Bose as Saroo's birth mother is also exceptional. She is only in a few scenes but her performance gives the story authenticity.
The yogis say that we all have something to do in this life, and that when we feel that pull towards it, we should simply do it. Saroo's purpose was to tell his story so that all over the world, thousands of miles away in every direction, rooms full of teary men and women can truly understand what poor children are experiencing in India and around the world. Films like this matter, because they make us care about injustices in countries we might never otherwise fully realise. It is despairing that an abandoned five-year old screaming for his mum in the middle of a bustling train station is completely ignored by the hundreds of adults around him. However, in India, in the 1980s, he is just another lost child, ignored like all the rest. It's not about colour, caste, religion or ethnicity – a five-year old in distress should provoke the same response everywhere.
If you think you can watch this film and keep your eyes dry, think again. I cried for most of the film, and a few times afterwards. About the things that happened to this young boy and others like him, but also about how remarkable people can be.
In India, over 80,000 children go missing each year and over 11 million children live on the streets. For the release of this film, the foundation #LionHeart was launched in collaboration between the production companies, See-Saw Films and The Weinstein Company (TWC), and The Charity Network. It will provide financial support to the over 11 million children who live on the streets of India. To find out what you can do to help, go to www.lionmovie.com/#charity.
Latest posts by
Vhairi Slaven
(see all)