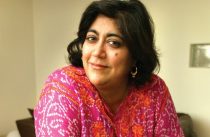 As part of Film in Focus , Barbican Cinema, in collaboration with the London Film School and Women in Film & Television, continues its series of In Conversation sessions highlighting the impact of women in the film industry. In March Barbican Cinema screens a special preview of Viceroy's House from director Gurinder Chadha, starring Hugh Bonneville and Gillian Anderson and welcomes director Gurinder Chadha to the stage for ScreenTalk to discuss her work and experience of the film industry.
Viceroy's House in Delhi – the home of the British rulers of India for 300 years. In 1947, Lord Mountbatten (Hugh Bonneville), great grandson of Queen Victoria, assumed the post of the last Viceroy, charged with handing India back to its people. As the political elite converged on the Viceroy to wrangle over the birth of an independent India, a decision was taken to divide the country. The consequences of which reverberate to this day.
Writer/director Gurinder Chadha will discuss her work with Kate Kinninmont following this special preview screening. Chadha is one of the UK's most respected filmmakers with a successful track record in directing international box office features. She began her career as a BBC news reporter and went on to direct award-winning documentaries for the British Film Institute, BBC and Channel Four. Her first feature, Bhaji On The Beach, won numerous international awards including a BAFTA nomination for Best British Film and the Evening Standard British Film Award for Best Newcomer to British Cinema.
Bend It Like Beckham broke the record for being the highest-grossing British financed/distributed film ever at the 2002 UK box-office and became a critical and commercial success internationally, receiving a Golden Globe nomination, a BAFTA nomination, a European Film Academy nomination and a Writers Guild of America nomination. Chadha was awarded an O.B.E. in the 2006 Queen's Birthday Honours List for her services to the British Film Industry.
The screening of Viceroy's House takes place on the 1st of March and will be release nationwide on the 3rd of March. See barbican.org.uk/film for details.
Latest posts by John McArthur
(see all)