Kevin Spacey's career has spanned decades, turning in so many career-defining performances that some people will only know him as Frank Underwood or Lester Burnham or Verbal Kint. He is a truly versatile and interesting actor – pursuing roles that always bring something a little unsettling or unusual to the big screen. He's won countless awards for both stage and screen and is always a genuinely interesting watch. What's perhaps more rewarding is his wicked sense of humour and potty mouth that comes across in TV interviews. A notoriously private actor, he's perhaps one of the best of his generation, if not the best.
Se7en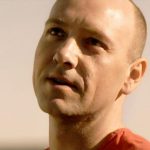 Spacey deliberately shied away from the press junkets for David Fincher's heart-stopping neo-noir thriller. He wanted to create an air of mystery and suspense around the final reveal of his character. It's a truly unforgettable performance. As serial killer John Doe, Spacey brings a real sense of uneasiness to the film, even when he's not onscreen. His delivery is cold, calculating and psychotic. How he didn't scoop the Oscar is beyond comprehension. As a film, it's absolutely stood the test of time and is still genuinely scary on repeat viewing. And who could forget one of his most famous lines – "I really like your pretty wife …" Uttered to perfection.
The Usual Suspects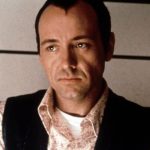 His performance as the meek and mild-mannered Verbal Kint deservedly won Spacey his first Oscar (for Best Supporting Actor). As part of an all-star cast, Verbal is a suspect in a truck hijacking which sees him in a police line-up alongside the likes of Benicio del Toro and Gabriel Byrne. None of the men are willing to give up the man who seems to have organised the whole thing – the mysterious Keyser Soze. But does he even exist? This film has also stood the test of time – worth watching for that last scene alone. An absolute jaw dropper.
Beyond the Sea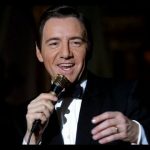 This really was a labour of love for Spacey and the project took years to get off the ground. A lifelong Bobby Darin fan – Spacey is known for his love of performing big band numbers – he was passionate about telling his story. There are plenty of song and dance numbers and, sure, it's a little bit swooning but it works. It's like watching a film that was made in Darin's time. Spacey also delicately conveys his idol's relationship with Sandra Dee and his pursuit of being a true entertainer, not just a pop star. Spacey wrote, directed, acted and sang in the film. The scenes where Darin talks to his boyhood self are particularly poignant.
American Beauty

Spacey's performance as the jaded, middle-aged Lester was so captivating that it won him a Best Actor Oscar. And rightfully so. Sam Mendes' film opens up the rotting, dissatisfied lives of middle-class American suburbia and puts it all on display with no holds barred. Lester's mid-life crisis culminates in the famous 'rose petal scene' as his sexual obsession with his daughter's best friends only furthers his frustration and bitterness. It's a stunning performance full of nuance and real human emotion. The dinner table scene where he launches a plate at Annette Bening is a stand out.
Consenting Adults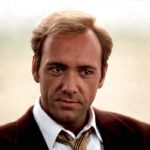 This film would probably now fall in to the 'erotic thriller' category but that kind of does it a disservice. Spacey does what he does best: he unsettles the norm. His character encourages his neighbor – played by Kevin Kline – to 'swap wives' for the night … And then frames him for murder. Whilst Kline's world falls apart, Spacey displays all the menace and arrogance that can be seen in his portrayal of Frank Underwood. It's another unnerving performance – there's always something just a little bit 'off' and you never know what to expect from him next.
L.A. Confidential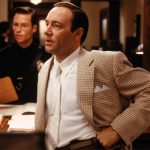 The critically acclaimed Curtis Hanson neo-noir saw Spacey cast as Jack Vincennes, a police sergeant who moonlights as a technical advisor on a TV cop show. He also tips off magazines about celebrity arrests to make a quick buck. It really is Spacey at his finest – he loves portraying sleaze and grime. His character quickly becomes involved in the murder of an actor he tried to frame and it is here that another Spacey acting trait comes to the fore – dogged perseverance. He is happy to sweat, shout and swear until he uncovers the truth. The film was box office gold – and Spacey was widely praised for his performance.
Editor at Moviescramble. European cinema, grisly thrillers and show stopping musicals are my bag. Classic Hollywood Cinema is comfort food. Spare time is heavily dependent on a lot of pizza and power ballads.
Latest posts by Mary Palmer (see all)