The violent events of the Boston Marathon bombing in 2013 shocked the world and united a city. People were glued to the media as the manhunt for the two suspects unfolded on our screens like a real-life Hollywood drama. Naturally, the tragedy would be adapted for the screen and is the case with any incident based on a true story, there's a worry that the film will be heavily fictionalised for dramatic effect. This isn't the case with Patriots Day as director Peter Berg imbues the film with natural realism, presenting a harrowing tale that's both uplifting and distressing.

Although the filmmakers do well to portray the events as accurately as possible, the biggest deviation comes in Mark Wahlberg's character Sergeant Tommy Saunders. The character may be fictional however he is a composite of the many police officers that were key to the investigation. The film focuses on Saunders as a central point but it doesn't forget the actual victims of that day. The script, by Berg, Matt Cook and Joshua Zetumer, invest in those afflicted by focusing on their backstories and relationships, helping to create a connection that resonates with the viewer.
Berg isn't shy in making the audience uncomfortable as he expertly blends dramatised footage with authentic material. At times it's difficult to tell the difference which further adds to the upsetting atmosphere created. The visceral score by Trent Reznor and Atticus Ross contribute to this nail-biting mood, leaving audiences hanging by a nail.
The performances are solid with Alex Wolff and Themo Melikidze intimidating for different reasons as the bombers. Melikidze's Tamerlan is cold and methodical whereas Wolff's Dzhokhar is dangerously unpredictable and at times playful. Wahlberg is in fine form as Saunders, personifying the spirit of the city and representing the feeling of initial helplessness the police faced early on in their investigation.
The violence may be graphic but it's not gratuitous. The carnage is hard-hitting but delivered with a sincerity from Berg that wants everyone to appreciate the brutality of this atrocity. Although the climax is saturated with an infectious patriotism, the film has earned it. Some may roll their eyes at the Team America vibe it gives off but this is more about the strength of a city as opposed to the will of a nation.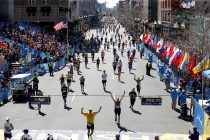 Patriots Day is a love story to Boston and a tribute to how the city reacted when faced with such heartbreak. It's a near-perfectly paced thriller that will evoke anger and joy while serving as a reminder that love should always triumph over hate. The message is laid on a little thick at the end but the final sequence solidifies this message, rounding off an excellent film with a difficult subject matter.
Latest posts by Thomas Simpson
(see all)