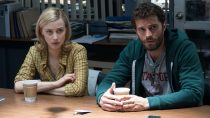 The 9th Life of Louis Drax is a bit of a departure from director Alexandre Aja's usual fare. It stretches to be this complicated mystery/thriller hybrid but falls down in a couple of major departments which stop it from being truly great.
We are introduced to the eponymous Louis Drax, an accident prone child who has seen his fair share of life-threatening injuries. His resilience is pushed too far, however, when one day he falls off a cliff with the result of him falling into a coma. The exact circumstances surrounding his fall is the beginning of the mystery and the rest of the film is spent trying to find out what exactly is wrong with this boy.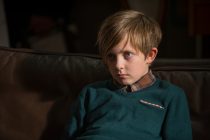 For me, this mystery sort of fell at the first hurdle. You see, I didn't like Louis Drax. He comes across as bratty and snobby. Certain revelations in the second half of the film make him more sympathetic, and I guess it would be up to the viewer as to how much this redeems him. Sarah Gadon plays Louis's mother Natalie, who spends most of the film with her mouth agape at Louis's misfortune. Jamie Dornan plays a child psychologist that gradually gets swept up in the mythology surrounding Louis, and his performance is largely unremarkable. It's disappointing because I know he can perform well due to Anthropoid, the recent war thriller that had excellent performances all round, including Dornan. His heart just wasn't in this one. Aaron Paul plays Louis's father, a figure of mystery who forms the backbone of the intrigue. Again, Paul doesn't really bring anything to the role that we haven't seem him do before. He just seems to be exhausted all the time, and I found his character tiresome despite his importance to the plot.
The dreams that Louis experiences are probably the most interesting part of the film, as they let Aja go a bit wild with the makeup and visual effects, but they're too few and far between to make a real difference. The "big twist" at the end is built up far too much for what it is, but it is a pretty good explanation as far as twists go.      
The 9th Life of Louis Drax is a boring one. It features half-hearted performances coupled with an uninteresting mystery filled with characters I don't really care about.
Latest posts by
Matthew Lanceley
(see all)