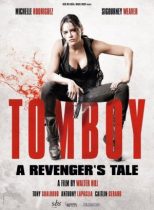 Frank Kitchen is an assassin at the top of his game. When he's double-crossed by a group of ruthless gangsters he falls into the hands of a rogue surgeon, known only as The Doctor, who transforms him into a woman against his will. Aided by a nurse with her own set of secrets, Frank the hitman becomes Tomboy the hitwoman and revenge is the first thing on her mind.
Starring action cinema's star du jour Michelle Rodriguez as Frank/Tomboy and featuring celluloid royalty in the form of Sigourney Weaver as The Doctor, Tomboy is an action adventure with a neat twist. Also starring Anthony LaPaglia and Tony Shaloub, Tomboy is a searing return to form for Walter Hill, director of 1980s classics such as Red Heat and 48 Hours, and essential for action aficionados everywhere.
Tomboy will be available on digital platforms from March 13th and on DVD from April 3rd.
Latest posts by
John McArthur
(see all)