Ital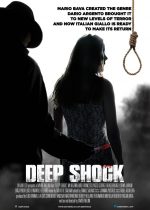 ian filmmaker Davide Melini returns with his latest suspense horror, Deep Shock. The official synopsis for the short film reads –
"Sarah can't completely overcome the deaths of her grandfather and her older sister. The trauma and lack of sleep cause her to embark on a strange journey of apparitions and murders, apparently caused by her mind."
Intended as a tribute to the popular giallo style, Deep Shock promises to be a slick and atmospheric nailbiter.
The film stars Muireann Bird, Francesc Pagès and George Bracebridge.
Writer, filmmaker, friendly neighbourhood storyteller. Believes Jaws to be the greatest film ever made and will go down swinging with that belief.
Latest posts by Thomas Simpson (see all)