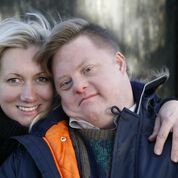 21st March is recognised as World Down Syndrome Day (WDSD), this date was chosen as Ds is caused by having 3 copies or chromosome 21! To help mark the event a number of cinema will be screening the brilliant British award winning film My Feral Heart, which stars in the lead role a brilliant young actor called Steven Brandon, who also happened to have Down's syndrome. Steven's performance was described by Mark Kermode, the BBC Film critic as 'absolutely terrific' and indeed he gave the whole film a wonderful review on his BBC show.
When Luke, an independent and sensitive young man with Down's syndrome is forced to live in a care home after his elderly mother dies, he struggles to settle. Frustrated by having his wings clipped by unfamiliar rules; totally unimpressed by his new housemates and grieving for his Mum – his disappointment soon turns to wonder when Luke discovers a way out and begins to explore the surrounding countryside. When he is caught sneaking out by Pete, a troubled youth who tends the gardens at the Home, they strike up an unlikely rapport: Pete covers for Luke when he sneaks out and in return Luke helps Pete clear the garden. On an illicit excursion to the adjoining field Luke discovers a young injured girl in desperate need of his help…..This is Luke's story.
The purpose of the screening on WDSD is threefold: Raise awareness of Ds and the capabilities of people living with it, Raise some money for a Ds Research charity (£1 from every ticket sold goes to charity) and give as many people as possible the opportunity to see this wonderful film – you will laugh and cry in equal measures! A recent guardian article recently highlighted the fact that only 12% of the UK public has ever watched a film starring an actor with learning difficulties and you can help change this by either buying a ticket for one of the UK wide screenings (everywhere from Fife, to Edinburgh, to Norwich, to London, to Plymouth, to Wales, to Glasgow, and many more) at the ourscreen link below or just sharing the details on social media – please just find My Feral Heart or 'don't screen us out' on Facebook/Twitter and please share the screening details with your friends to help get the word out there.
Screening details/bookings can be found on the link below – However please note if you can make a screening  you need to buy the ticket before the 12th March to guarantee the screening goes ahead (don't worry if the screening does not get the required numbers you won't get charged)
Editor-in-Chief at Moviescramble. A Fan of all things cinematic with a love of Film Noir, Sci-Fi and Julia Roberts in Notting Hill. He hopes to grow up some day.
Latest posts by John McArthur (see all)