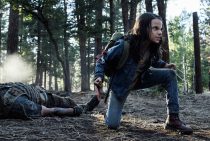 I haven't been this excited to write up a review since Mad Max. Logan hit cinemas last week and should rightfully smash just about every box office record going. It was fucking epic. In the Marvel universe, the X Men franchise is my absolute least favourite. They have never been able to achieve the sweeping scale of Civil War or the humour of Deadpool. They've always rambled on, muddling through characters and, in my humble opinion, generally letting the side down.
Logan does none of this. It's violent, it's thoughtful, it's darkly humorous, it's coherent. Everybody has a reason to be in this movie. The plot makes sense. The characters all follow a natural thread of development. In short, it's everything every other X Men film has failed to be from day one. It's shame that it's taken till Hugh Jackman's last film for them to get their house in order.
Obviously, this is a much older Logan. He is jaded and weary – right down the to physical aspect of not healing as quickly as he previously could. He is very much aware that his time is almost up. But does that stop him? Absolutely not. The film opens with a rather dishevelled looking Jackman waking up from a nap in his car to discover thieves attempting to steal his hub cubs. He quickly, brutally takes them out. (That shot in the trailer where he puts his claws through the top of the guy's skull is just a taster.)
He's also in the position of looking after Charles Xavier, who is living out in the dessert in a tin container in order to stop his seizures (which seem to cause paralysis and general melting of brains via available orifices) from wiping out the greater population. In short, the last thing Logan needs is to uncover a ring of child mutants on the run from the government. Especially since one young lady shows more than a hint of the wolf about her … I don't want to go in to too much plot because most of you will either be well-versed in the plot or won't want spoilers.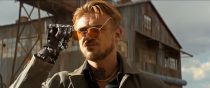 The colour palette and landscape of the film is entirely reflective of Logan's aforementioned tiredness – lots of sweeping piles of dust, muted colours, rust-eaten walls and washed out skies. The only glimpse of lush greenery and sunshine is when the group of 'gifted youngsters' – obviously, the future, and still full of energy – appear in search of a safe place to exist.
Marco Beltrami also does a bloody brilliant job of the score – punctuating the fight scenes neatly and allowing more dramatic moments to speak for themselves.
The film pulls in some truly excellent performance from Jackman and Stewart – arguably their finest of the franchise – and a tremendously ferocious yet vulnerable turn from child star, Dafne Keen as Laura. Stephen Merchant makes a welcome return as Calaban and Boyd Holbrook makes an entirely credible villain. I really enjoyed his performance. There is no over the top, hammy acting, here: everyone has a clear agenda and sticks to it. And, let's be honest, a plotline about a group of alien (or 'foreign') bodies seeking to cross a border to remain safe has more than a political taste about it. I'm not saying the film has a bias, but you can draw clear parallels if you choose to.
For me, the stand out scene was the one in the hotel room. Xavier is having another of his fits, which in turn means the group of armed police taking aim at him are temporarily paralysed. Logan – who is less affected by the fit – is able to work his way through the men, slicing and dicing all over the place. His claws are going in throats and coming out ears; going in ribs and coming out spines. Then, when the fit stops, all these injured men drop to the ground and life goes on as normal. I can't quite describe how it exciting it was, other than saying I was sitting in the cinema, slicing and punching along with him.
I am so glad that Deadpool came along and gave director James Mangold the balls to make a violent film with swearing and mature themes. Other superhero films could really take note of this – not everything has to cater to the 12a audience. Because, it's clear from Deadpool and Logan's opening weekend, that your financial return will not suffer from a higher rating.
Jackman really can hang up his claws knowing that he's gone out with a bang. He's given the character seventeen years of his life – and Logan affords him the level of dignity and respect that both he and his character deserve.
Fucking finally!
Editor at Moviescramble. European cinema, grisly thrillers and show stopping musicals are my bag. Classic Hollywood Cinema is comfort food. Spare time is heavily dependent on a lot of pizza and power ballads.
Latest posts by Mary Palmer (see all)