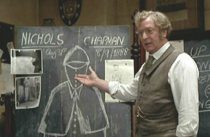 Double Oscar Winner Michael Caine heads a star-studded cast in this acclaimed dramatisation of the hunt for the notorious serial killer who preyed on the prostitutes of London's East End – Jack the Ripper. Made for the 1988 centenary of the infamous murders, the production team were granted unprecedented access to Home Office files on the Ripper case – the resulting two-part miniseries winning Caine a Golden Globe award for his portrayal of the dogged Scotland Yard detective Frederick Abberline. Co-starring Lewis Collins, Jane Seymour, Ray McAnally and Armand Assante.
In the autumn of 1888, Chief Inspector Abberline is sent to investigate the murder and mutilation of a prostitute. On the teeming streets of Whitechapel others soon meet the same fate and a press frenzy ensues. With "Jack the Ripper" terrorising London and both the police and outraged public clamouring for a conclusion, Abberline and his partner, Godley, work doggedly through their list of suspects – more than one of whom has royal connections.
In a brand new high definition transfer, Jack The Ripper will be released on Blu Ray on the 27th of March.
Editor-in-Chief at Moviescramble. A Fan of all things cinematic with a love of Film Noir, Sci-Fi and Julia Roberts in Notting Hill. He hopes to grow up some day.
Latest posts by John McArthur (see all)