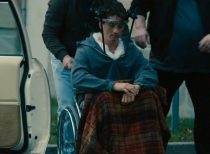 In association with Premier Comms we are offering he chance to win a coy of Bleed For This on DVD. Featuring a gripping central performance from the increasingly eye-catching Miles Teller, the film follows boxing prodigy Vinny Pazienza's soaring rise to stardom and two world-title fights. Then, at the top of his game, Vinny is involved in a near-fatal car accident that leaves him on the brink of paralysis, as doctors tell him he may never walk again will have to hang up his gloves forever. Against all odds and doctor's orders, renowned trainer Kevin Rooney (Aaron Eckhart) helps Vinny return to the ring just a year after the accident to compete in what could be the last fight of his life.
Marking the return of writer/director Ben Younger, with his first film in 11 years, and boasting an impressive supporting cast including Ciarán Hinds, Ted Levine and Katey Sagal, Bleed For This revisits the charms of one of cinemas most beloved and timeless genres, channelling the true spirit of the underdog story with immense conviction.
To win a copy of the film fill in the form with the answer to the following question
What is the name of the 21015 Superhero film that starred Miles Teller?
The competition ends at 23:59 on the 17th of April. Moviescramble will not pass on your details to anyone else. The editor's decision is final.
Latest posts by
John McArthur
(see all)