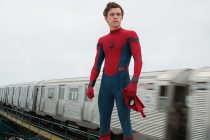 Since his turn in Captain America: Civil War, anticipation has been building for the return of Spider-Man. The initial trailer only added to the buzz surrounding the reboot of the character that is cited as the favourite of many superhero fans. A second trailer for Spider-Man: Homecoming has just been released and it features some very cool stuff indeed.
The two and a half minute trailer gives a better look at The Vulture as played by Michael Keaton. He is on top form at the moment and seeing him once again in a super hero movie is a tantalising prospect. The trailer also expands a little on the normal side of Spidey's life as he tries to negotiate high school life as a geek and an outsider. Throw in a bit of Iron Man and expectations are once again at an unnatural high. There's a good vibe around this film and I suspect it will be greeted warmly by both critics and fans.
Spider-Man: Homecoming is in cinemas from the 7th of July.
Latest posts by
John McArthur
(see all)