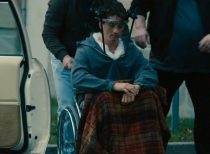 The boxing genre tends to follow a specific formula. From Rocky to Southpaw, the core of the plot is of an underdog and their epic comeback. Bleed for This doesn't deviate from this trusted formula but what is remarkable is that it's based on the incredible true story of boxer Vinny "Paz" Pazienza and his incredible battle that saw him face overwhelming odds.
With his boxing career in limbo after a devastating loss, Pazienza (Miles Teller) struggles to get another fight. He is shipped off to pasture to train with Kevin Rooney (Aaron Eckhart) who despite having trained Mike Tyson, now finds himself a washed up alcoholic. Paz's career starts to take an upswing as he changes weight classes but he's soon involved in a horrific car crash that leaves him severely injured and almost paralysed. Refusing to retire, Paz asks Rooney to train him in secret and help build his body back up with the hope of competing in the ring once more.

There's nothing inherently wrong with Bleed for This, it's a well crafted film. The performances are excellent and the drama captivating. It's only downfall, and it's a big one, is that it offers nothing new to the genre. There have been scores of boxing films that have come before that have told essentially the same story albeit with different dressing.
The story of Paz is tragic and inspirational, unfortunately the journey of our hero has become clichéd and tired. It's difficult to blame anyone involved and as it's based on a true story, it should give the plot and edge except it's east to draw comparisons with its predecessors. This doesn't mean the film isn't enjoyable, it's easy to get behind Paz and root for him all the way. Teller is a great actor and does a great job of making us invest in the boxer and his recovery.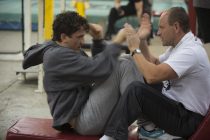 Katey Segal is wonderful as Paz's mother Louise, exhibiting great emotion with a mere look but it is Eckhart that is the standout. He's brilliant in his portrayal of Rooney, a man who has great concern for Paz but also has his own demons to battle. Despite the great cast, the characters relationships feel slightly underdeveloped. Paz and Rooney showcase the traditional reluctant mentor/student dynamic but the focus shifts from it slightly when Paz's father and manager are in the equation.
The script explores some subplots that are no more than filler although the main story is one of true grit and heart. The boxing scenes are heavy in impact and full of emotion however it all looks very familiar. Brilliant performances and direction elevate a familiar an ordinary script that doesn't make the most of it's inspiration.
Latest posts by Thomas Simpson
(see all)