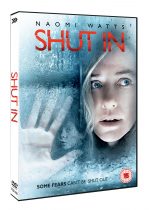 To celebrate the release of Shut In – available on DVD & Blu-ray 10th April – we are giving away a copy of the DVD courtesy of Arrow Films. Shut In is a heart-pounding thriller starring two-time Oscar Nominee Naomi Watts, that relentlessly questions whether or not we can really believe our own eyes and ears.
Isolated by her role as carer to her paralyzed son and by a devastating blizzard, Watts' child psychologist, Mary, must find out the truth behind a missing boy in her care. Making great use of its claustrophobic setting, Shut In is a terrifying slice of New England gothic that will keep you riveted until the final twist.
Order today: http://amzn.to/2mptwU8
To win a copy of the DVD please fill in the form with the answer to the following question
What is the name the 2013 film that gained Naomi Watts an Oscar nomination?
The competition ends at 23:59 on the 27th of April. Moviescramble will not pass on your details to anyone else. The editor's decision is final.
Shut In is available on DVD from the 10th of April.
Editor-in-Chief at Moviescramble. A Fan of all things cinematic with a love of Film Noir, Sci-Fi and Julia Roberts in Notting Hill. He hopes to grow up some day.
Latest posts by John McArthur (see all)