Anyone who goes to see a Jim Jarmusch film knows that they are letting themselves in for something a little surreal. I'm a huge fan on 1995's Dead Man and 2013's Only Lovers Left Alive. It could be said that the quirky director's films very much have their own poetry to them. How fitting, then, that his latest film, Paterson, is about a man who pens plain-spoken poems in his spare time.
The film is described as a "quiet observation of the triumphs and defeats of daily life, along with the poetry evident in its smallest details." It certainly is quiet – you won't find over the top stunts or blockbusteresque CGI here. It really is a celebration of the every day.
It's a film that will very much leaving you feeling incredibly relaxed and content. It's quite beautifully shot and the poetry that is peppered throughout really makes you think about the people and objects you see and interact with every day. It has an almost timeless aesthetic.
Adam Driver stars as the central character (also called Paterson) and I can safely say I have never felt so captivated. He is absolutely electric – but more of that later. Each day he wakes up at 6.15, relying on an almost silent Casio watch (not an alarm) to wake up. He eats the same cereal every day, he goes to work, exchanges pleasantries with his supervisor and writes a few lines of a poem when he can. He comes home, walks his dog and goes for a beer. There isn't that much more to his life. There are repeated references to the fact that he doesn't have a smart phone or use the internet. He is a man of simple pleasures.
The dynamic between Paterson and his partner (played beautifully by Iranian actress Golshifteh Farahani) is so sweet and endearing. Every day he comes home to find she's painted another part of their home or made another pair of curtains. She tries making cupcakes, playing the guitar or weird recipes.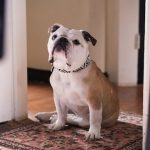 He wills her on in her pursuits and genuinely encourages her creativity – even if it means he's forced to gulp down slices of cheese and Brussel sprouts pie and pretend he loves it. She has a new project or ambition every day and he doesn't ever seem to tire of it. They have a really charming relationship and they both seem content by their routine.
Driver truly is absolutely captivating in this lead role. His voice, as he narrates his poetry, is incredibly measured and soothing.
He uses his bus driving job as an excuse to people watch; to find joy in the everyday and turn it into poetry. He is fascinated by his fellow man. Although he's relatively taciturn, he often sounds deeply philosophical – even when he doesn't mean to be. That is no doubt why most of the other characters who encounter him are left smiling by their interaction.
I don't know too much about the city of Paterson, other than it has a reputation for being a little rough around the edges. Once a thriving textile town filled with Italian immigrants, it now has an unfortunate association with crime and gangs. None of this is mentioned in the film, however. The people seem warm and friendly, and there's only one fleeting reference to 'hoods', who drive past Paterson whilst he walks his dog.
And, on that note, no review of Paterson would be complete without a mention of Marvin the British bulldog. This dog genuinely seems able to join in with conversations, either by rolling his eyes, grunting or shrugging his shoulders. It's a pretty special thing to see.
Paterson won't be for everyone. On the surface, it seems very unassuming and mundane. But, actually there's a lot more to it. It's about community and taking pride in your work; it's about relationships and having a safe space to create. It's as deeply philosophical as it is simply beautiful.
Driver puts in a truly charming performance at the heart of this film. It really will leave you with a cosy glow.
Latest posts by
Mary Palmer
(see all)