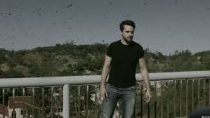 In association with Soda Pictures we are offering the chance to win a copy of day of Reckoning on DVD. Fifteen years ago, the world suffered a horrific global disaster when millions of demon-like creatures ascended from the bowels of the earth, swarming the entire planet, and feasting on mankind for one full day. Now due to a lunar eclipse they have returned for 24 hours to purge the earth's population. One family will battle against the odds to not only save themselves but to also seal the breach. Who will survive this "Day Of Reckoning"? The film is directed by Joel Novoa and stars Jackson Hurst, Heather McComb, Jay Jay Warren and Barbara Crampton.
To win a copy of the film please fill in the form with the answer to the following question.
Who directed Day Of Reckoning?
The competition ends at 23:59 on the 1st of May. Moviescramble will not pass on your details to anyone else. The editor's decision is final.
Day Of Reckoning is now available on DVD.
Editor-in-Chief at Moviescramble. A Fan of all things cinematic with a love of Film Noir, Sci-Fi and Julia Roberts in Notting Hill. He hopes to grow up some day.
Latest posts by John McArthur (see all)