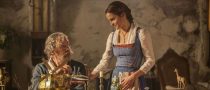 In the current cinematic age of remakes, reboots and reimaginings, it was only going to be a matter of time before Disney started going through its plethora of past hits and giving them a shiny new coat. The first two attempts, Cinderella and The Jungle Book, were huge successes at the box office. And while not instant classics, they were accomplished and polished adaptations.So of course, with that money in the bank, the House of Mouse is now fully committed to bringing the rest of its back catalogue out of retirement. The latest being perhaps one of the most beloved and fondly remembered among fans, Beauty and the Beast.
The original 1740 fairy-tale has been adapted for the screen several times over the years. With most being pretty forgettable or just downright bad. If you want to give yourself a migraine, watch the 1997 Fran Drescher/Timothy Dalton train wreck The Beautician and the Beast It was Disney's 1991 animated attempt that nailed it though, and it remains one of the  jewels in Walt's crown.
The story is solid as ever. It is a tale as old as time after all. A simple, yet sweet story in which two people (or I suppose, one woman and one man-beast) who although might seem different at first glance, gradually fall in love. The fact they're helped along on this course by an array of sentient household items, stuck under the same curse as their hairy master, has always been a unique addition to the age-old tale.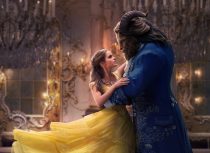 The casting of the lead roles was always going to be of major importance to the film's success and thankfully both Emma Watson and Dan Stevens deliver fantastic performances. Watson's Belle' easily looks the part, but she backs it up with a beautiful singing voice and a charming mix of steely determination and wide eyed innocence. Stevens manages to not only get across the brutish, sullen nature of the Beast, but also his softer, gentler side as he slowly becomes more enamoured with Belle. It's easy for a performance to get lost under so much CGI make up, but Stevens always manages to make sure the human element of the character come across.
The rest of the cast are uniformly excellent. Luke Evans is fantastically smug as the the boorish bully Gaston and Josh Gad steals nearly every scene he's in as his sycophantic cohort LeFou. The voice acting of the castles not so inanimate objects includes a fine list of British thespians. Ewan McGregor hams it up wonderfully as Lothario candelabra Lumiere. Breaking out his best Allo Allo style French accent. Ian McKellan is suitably stuffy as the always tense timepiece Cogsworth, while Emma Thomson is on fine form as cockney mother hen Mrs Potts.
It's the CGI cast where the film falters slightly though. While they all sound great, the updated look they've been given has robbed them of most the charm and cuteness they had in the animated version. In fact, some of them wouldn't look out of place in a schlocky haunted house. The voice acting is good enough to salvage it from being disastrous, but the jarring aesthetics were a very noticeable flaw.
The 1991 Beauty and The Beast is full of big, memorable set-pieces, and it was always going to be a challenge here to live up to them. While it does deliver where it counts, It's not always successful. Gaston's tavern singalong felt a bit lacklustre. But the iconic ballroom waltz and the fantastic Be Our Guest dinner sequence, for me the movies high point, are handled excellently, and compare more than favourably with the animated iterations.
With expectations from a feverish fanbase sky high, the pressure was on director Bill Condon to deliver not just a passable entry. But a faithful update that could stand alongside it's illustrious predecessor.  I'm happy to report, that aim has – just about –  been achieved. Following the 1991 blueprint, it hits all the big notes. With an excellent, up for it cast, as well as adding a few new ingredients of its own. There are a few minor fumbles, but diehard fans will fall in love all over again, and the more casual connoisseur will appreciate a passionately well-made musical.
It might indeed be a tale as old as time. But it still has plenty of life left in it yet.
Latest posts by
David Logan
(see all)