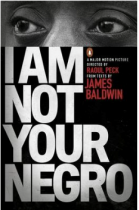 To celebrate the current release of Altitude Film's Oscar-nominated I Am Not Your Negro, in UK cinemas now. We have 2 copies of the tie-in book to win. The powerful feature is based on JAMES BALDWIN's notes for an unfinished novel 'Remember This House' widely considered as one of the greatest uncompleted works in American literature.
Narrated by Samuel L Jackson and with unprecedented access to James Baldwin's original work, Raoul Pecl has completed the cinematic version of the book Baldwin never wrote – a radical narration about race in America that tracks the lives and assassinations of Baldwin's friends, Martin Luther King Jr., Malcolm X and Medgar Evers.  Whilst it is partly anchored in the struggle for equality in the 50s and 60s, I Am Not Your Negro is about what it means to be black in America today
The competition winner will have this newly-released book, which includes notes from director Raoul Peck, and images, in their very hands by completing the form below with the answer to one simple question:
Which famous figure was James Baldwin friends with?
Martin Luther King Jr.
Sam Cooke
Bill Cosby
The competition ends at 23:59 on the 5th of May. Moviescramble will not pass on your details to anyone else. The editor's decision is final.
I Am Not Your Negro is in UK cinemas now.
Editor-in-Chief at Moviescramble. A Fan of all things cinematic with a love of Film Noir, Sci-Fi and Julia Roberts in Notting Hill. He hopes to grow up some day.
Latest posts by John McArthur (see all)