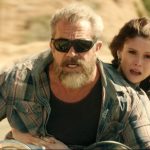 Of late, my local multiplex seems hellbent on preventing me from going to the cinema. Several films that I have wanted to go and see had screen time of approximately less than a week before disappearing. One such film was Mel Gibson's comeback as a leading man in Jean-Francois Richet's film, Blood Father.
Richet was responsible for the 2005 remake of Assault on Precinct 13 and the stunning 2008 two-part biopic, Mesrine. I was interested to see what he could draw out of 'Mad Mel' in this brave return in front of the camera.

The film was billed as low-budget Taken which is really doing it a disservice. Blood Father is a darkly humourous drama that just so happens to have some excellent action set pieces in it. Those of you who are familiar with Mesrine will know that, with Richet, character comes first.
We open with Mel, in a church, reliving his past transgressions under the influence of alcohol. His character, John Link, has recently been released from a nine-year stint in prison and is now living in a trailer park in the middle of nowhere. Watching Gibson recount his character's struggle every single day as he battles the booze feels incredibly personal; clearly there is a lot of his own demons laced in to his performance.
Everything in Link's life feels weather-beaten and worn. His clothes are dusty and frayed; you can see the dust as the relentless dessert sun floods his trailer. And yet, he's trying. He's attending AA meetings and working as a tattoo artist.
From his initial confessional, the plot is quite simple. Link hasn't seen his teenage tearaway daughter in years. Out of the blue, she calls him and begs for help. She's got herself in with the wrong crowd and, quite frankly, she's in Really. Serious. Trouble.
The dynamic between Gibson and Erin Moriarty, who plays Lydia, teeters between affectionate and frustrating. She's a drug user; he's trying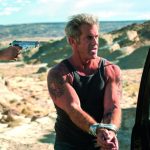 to stay clean. She's hysterical; he's placid. It results in several really funny back-and-forths where Link really does let loose with some cutting quips. Clearly, prison life has gifted him with a black sense of humour.
Naturally, as Lydia is on the run from the aforementioned Mexican drug lords, they come looking for her. Cue Link's basic but homely trailer getting shot to pieces. However, it also proves that, as an action star, Gibson has not lost it. Positively rippling out of his grimy vest, he loads a gun and fires back at the approaching gang with style and ease. He even has time to crack a few more jokes.
What's nice about Blood Father is that it firmly knows it's place in the market. It's a B movie – but not one that's poorly made or lacking in plot or character development. In fact, there are even a couple of loving visual references to films of a similar ilk such as Mad Max and Terminator 2.
The action in the film is great but it's not all there is to it. Link shares a really great relationship with his sponsor, played by William H. Macy, and Diego Luna puts in a suitably menacing turn as Lydia's criminal boyfriend. Miguel Sandoval and Michael Parks also make up the impressive supporting cast.
As comebacks go, Gibson couldn't have really hoped for a better one. There are huge elements of his character that could so easily be his own, personal feelings. He still has the ability to deliver a witty retort while roaring like a beast or looking like he might snap your neck. The plot is well thought out and the action is brilliant. It doesn't go overboard, but you won't feel cheated. Every single character has a reason to be there.
It would be great if Gibson could utilise this – and the phenomenal success that was Hacksaw Ridge – to really springboard his way back in to Hollywood.
Blood Father is out on DVD and Blu-Ray now.
Editor at Moviescramble. European cinema, grisly thrillers and show stopping musicals are my bag. Classic Hollywood Cinema is comfort food. Spare time is heavily dependent on a lot of pizza and power ballads.
Latest posts by Mary Palmer (see all)