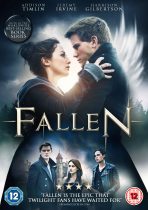 In association with Premiercomms we are offering the chance to win a Fallen DVD bundle. Based on the successful book series, the film is out on DVD on the 2nd of May.  On offer is a copy of the new teen fanatsy movie Fallen as well as the tie in book and a selection of DVDs including Sing Street, Get A Job, LOL and Nerve.
When Luce (Addison Timlin) is sent to Sword & Cross reform school, accused of a crime she didn't commit, she finds herself torn between two students: dangerous Cameron (Harrison Gilbertson) and mysterious Daniel (Jeremy Irvine). Tormented by strange visions, Luce begins to unravel the secrets of her past and finds she must choose where her feelings lie, pitting Heaven against Hell in an epic battle over true love.
To win the bundle please fill in the form with the answer to the following question.
Who wrote the Fallen book series?
The competition ends at 23:59 on the 29th of May. Moviescramble will not pass on your details to anyone else. The editor's decision is final.
Fallen is out on DVD on the 2nd of May.
Editor-in-Chief at Moviescramble. A Fan of all things cinematic with a love of Film Noir, Sci-Fi and Julia Roberts in Notting Hill. He hopes to grow up some day.
Latest posts by John McArthur (see all)