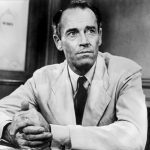 Twelve Angry Men is, quite literally, of a bygone era. It's exactly the type of film that wouldn't get made nowadays. Not least because Paul Feig would try and turn it in to Twelve Angry Women (With Ghosts). It's 90 minutes of pure character study: twelve men, one small jury room and nothing else. And, for that reason, it stands up.
Sidney Lumet's 1957 courtroom drama didn't actually do all-too-well upon its initial release, but has become something of a classic in later years. Criterion Collection have released a 60th anniversary edition this year.
The plot is incredibly simple. Henry Fonda famously plays the uncertain Juror Number 8 who, tasked with sentencing a young boy to death, expresses reasonable doubt to his fellow jurors; all eleven of whom are convinced of his guilt. The jury room is thick with city heat; you can almost smell the cigarette smoke and sweat. Fonda stands, Messianic, in his white linen suit against a sea of greys, browns and blacks.
The shots and the framing are absolutely beautiful. All the conversations are filmed at eye level, placing the viewer in the middle of the room, talking with the other jurors. One particular scene sees the Foreman (Martin Balsam) and Jurors 12 through 9 turn around to stare at Fonda; and all five sets of eyes seem to be on the viewer. It's as uncomfortable as if you were actually in the claustrophobic jury room.
By contemporary cinema standards, to be called a 'character actor' is probably viewed as something of a slur. And yet, here is a room full of them, delivering incredibly powerful performances. You spend a lot of time flitting between frustration and sympathy with these characters.
Lee J. Cobb as Juror Number 3, holds out until the very end, declaring the young boy guilty; guilty; guilty. Not until he crumbles the photo of his own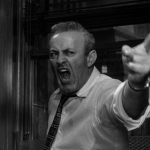 son do we realise that he has spent the hours battling with his own fractured familial relationships. Jack Klugman excels as the mild-mannered immigrant from the slums; George Voskovec is quietly absorbing as the eloquent European watchmaker and Robert Webber pre-dates Jon Hamm as the slick advertising exec.
One of the most important scenes, however, features Ed Begley. Convinced of the boy's guilt, he gives a ranting speech about "them" and "these people" and "their type". Slowly, each of the jurors pulls the chair away, stands up and turns their face away from him. He tries, painfully, to keep their attention before hoarsing and rasping his final pleas. Again, this character is portrayed so beautifully. Initially, yes, he seems like an old racist. But, in actual fact, here stands a man who has been made so afraid by his own ignorance that you end up feeling oddly sympathetic.
Despite the relatively large ensemble cast, each character is given a full story; and a sense of purpose. None of the twelve are forgettable. You can understand why, in turn, each man changes his mind. You get a sense of circumstances; of upbringing; of faults.
What also makes the film so endearing is largely to do with the era in which it is set. I love the fact that these men's trousers meet their ties above their navel; that one cigarette is lit before another is finished; that threats are delivered like "Why I oughta lay you out, mister!".
By way of neat contrast, the film ends with a wide, open shot of the court room stairs, emphasising the sense of release from the jury room. There's no feeling of humidity or tension anymore; like a conscience wiped clean.
Twelve Angry Men is an absolute classic, and deservedly so. It's so rare for sheer personality to drive a film forward. Lumet's 1957 film achieves just that.
Editor at Moviescramble. European cinema, grisly thrillers and show stopping musicals are my bag. Classic Hollywood Cinema is comfort food. Spare time is heavily dependent on a lot of pizza and power ballads.
Latest posts by Mary Palmer (see all)