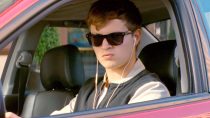 It's no secret that I am a Kevin Spacey superfan. As soon as I heard his dulcet tones narrate the opening scenes of the Baby Driver trailer, I knew this was a film I was going to see. (This was further confirmed when I realised it was written and directed by Edgar Wright – hooray!). I was relatively gutted that Wright ended up leaving the Ant Man film, as I thought he would have been perfect for the job. But I'm glad we get this, original piece to look forward to. The crime comedy has pulled together acting talent from the aforementioned Spacey, Jon Hamm, Jon Bernthal, Jamie Foxx and Ansel Elgort.
At the heart of the film is the titular Baby, who works as a getaway driver for Kevin Spacey's Doc, a criminal overlord. We learn that Baby was in a car accident as a kid, and to cope, he uses music to drown out the ringing in his ears. You're thinking what I'm thinking, right? This will only lead to an amazing soundtrack to accompany the many car chases and explosions hinted at in the trailer.
When he's set up to participate in a heist that seems doomed to fail, Baby is forced to use his particular set of skills to break free of Doc's control.
Baby Driver is set to be released in the UK on June 28.
Latest posts by Mary Palmer
(see all)