Ah, Mindhorn. How I wanted you to be so much more than what you were. When I first saw the trailer for Sean Foley's film, it looked like the type of tongue-in-cheek, playing it straight humour that you'd find in Garth Marenghi's Dark Place. Since I find that hysterical, I couldn't wait to see the sleuth spoof, Mindhorn.  Sadly, once again, a film I quite fancied was on at 11.15am on a random Tuesday so I didn't actually get the chance to have the cinematic experience. I wonder if that would have made the difference.
The premise is simple: Richard Thorncroft, an out-of-work actor, must help the Isle of Man police to catch a killer, who believes that the character of Mindhorn is a real detective. I love the way Julian Barrett plays the titular character; dated, conceited and absolutely convinced of his own genius. He's a kind of tragic fool; desperate to maintain his popularity and looks. It's really quite funny to watch him stick on his toupee and suck in his beer belly. He's been reduced to advertising thrombosis socks in cringey TV adverts and he stays in a tiny flat in Walthamstow. It's exactly how you imagine the Chuckle Brothers have lived out their life, post-TV career.
Desperate to cling on to his 80s TV show success, Thorncroft relishes the challenge to play detective for real on the Isle of Man. There, he encounters his former flame Patricia Deville (Essie Davies) and discovers she is now married to his Mindhorn stuntman, Clive (Simon Farnaby). To make matters worse, his former co-star Peter Eastman (Steve Coogan) has gone on to have an enormously successful career and is treated as a real hero on the island.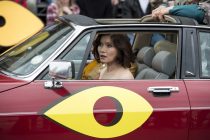 Thorncroft really doesn't have much going for him, except his murderous super fan known as The Kestrel. There are a few hilarious set pieces, such as when he 'practices' answering the phone to the killer (played beautifully by Russell Tovey) or when he responds to "Come alone," with "I always do." Sure, it's a bit infantile, but it's played so seriously that you can't help but laugh. The over-the-top chemistry between Patricia and our failed TV star is also really well done.
However, as the film wore on, I actually began to think that Mindhorn would have worked much better as a one-off TV special. It really does give the impression of a TV sketch stretched to its very limits. Initially, the jokes about Thorncroft's failing career and tragic personal life are funny and well-paced. But, after a while, they start to labour the point. You can only laugh so many times when you've seen a toupee continuously blow off. I also couldn't quite work out if Simon Farnaby's character was supposed to be deaf or Dutch – it was an odd accent.
There's also a really weird turn from a bald Kenneth Branagh. Presumably he had bills to pay that month since it pretty much adds nothing to the film.
The final showdown on the coast leads to a rather clunky performance from the normally excellent Andrea Riseborough, as DC Baines, and it kind of leads me to think that they had no idea how to finish the film but were running out of time to do so. It does seem a little cobbled together. Having said that, watching Julian Barret perform "dramatic capoeira" in order to dodge some bullets really is quite funny.
I wouldn't rush out to see Mindhorn again, and I'm so disappointed to be saying that. There were some laugh-out-loud moments, but not enough to make up for the thinly stretched script.
Editor at Moviescramble. European cinema, grisly thrillers and show stopping musicals are my bag. Classic Hollywood Cinema is comfort food. Spare time is heavily dependent on a lot of pizza and power ballads.
Latest posts by Mary Palmer (see all)