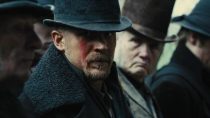 Tom Hardy is not a man who wants to sit on his laurels (fine as they may be). A cursory search of IMDB confirms that he has been involved in at least three projects a year for the last few years and recent announcements regarding Venom and more Mad Max show he is not slowing down anytime soon. So, the fact that he not only starred in the eight part TV series but also co-created and co-produced it should hardly surprise. Add to that the fact that the role he helps create for himself is really rather good.
Hardy stars in Taboo as James Delaney. Thought lost at sea off the coast of Africa some twelve years previously. He arrives home in London in time to attend his father's funeral. It is 1814 and the war between the British and the Americans is coming to a close. The East India company is out to exploit the situation for their own gain and trying to secure a piece of land in Vancouver that is vital for the forthcoming trade deals that will emerge as hostilities end. Delany's return throws those plans into chaos as he is the rightful heir of the disputed land. When bribery and cajoling fails to separate him from his inheritance, the East India company try to take more direct and brutal steps. Unfortunately for them Delany is not a man who reacts well to threats.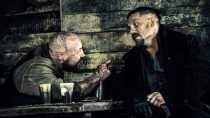 The beauty of a good television drama is that is has the space to develop over a number of hours. There is no need to rush the story and character development are more natural feeling. Over the course of eight hours, the story within Taboo is teased out in a very controlled way. It does take it's time to get to the main drama but it is more than worth it. All of the main characters are given just enough time for the audience to gain an understanding of their motives and their position within the story. The fact that this can change during the telling of the tale makes it all the more fascinating.
Hardy is excellent here. His character is a deep and troubled man who bears the physical and mental scars from living in Africa for over a decade. He is always in black and seldom seen without his stove pipe hat and overcoat. His bulk along with his attire makes for an intimidating character even before he starts speaking. The fact that he is someone of few words enhances his position and when he does actually speak it is with an accent that pretty much demands your attention. A raspy and dirty vocal performance demands that you listen to what Delaney is saying. What he tends to be getting across is just how dark and sinister he is. This is a character that is very un-likeable but also quite compelling to watch.
To have one performance as bleak as this is often enough. Taboo is full of them from some very serious acting talent. I would go as far as to say that there is not a single character that has redeeming qualities. The one's you root for in the beginning that appears to be the most humane all have their dark side that, when unleashed, is quite brutal to watch. There are too many great performances to list but probably the stand out is Jonathan Pryce as the head of the East India Company. He is sly and treacherous and totally commands the screen. Interactions between him and Delany are one of the highlights of the series.
Overall, a superior TV series that delivers on every count.
Editor-in-Chief at Moviescramble. A Fan of all things cinematic with a love of Film Noir, Sci-Fi and Julia Roberts in Notting Hill. He hopes to grow up some day.
Latest posts by John McArthur (see all)