Now in its second year, Cinema Rediscovered in Bristol offers audiences the chance to experience the finest in new digital restorations, contemporary classics and film print rarities on the big screen at cinemas including Watershed, Clevedon's Curzon Cinema & Arts and The Cube Microplex.
Cinema Rediscovered today reveals further highlights in its programme of events taking place in Bristol between 27-30 July. Fresh from the Cannes Film Festival comes Mark Kidel's documentary Becoming Cary Grant, reflecting Grant's journey from Bristol boy Archie Leach to Hollywood legend. Featuring rarely seen archive footage of Grant's home town, Bristol-based director Kidel observes,  "The film celebrates Bristol in many ways, and the creative team features some of the city's top musical talent with the brilliantly evocative soundtrack from Bob Locke and Tim Norfolk from The Insects and Adrian Utley from Portishead."
Ahead of its re-release this autumn, Cinema Rediscovered hosts a special preview of the new digital restoration of Blood Simple (Director's Cut), the Coen Brothers' directorial debut feature; Peter Lord, Creative Director and Co-owner of Bristol's Aardman Animations presents the original King Kong (1933) on 35mm; and in a UK first, Jean-Luc Godard's stunning political comedy La Chinoise (1967) be shown on the big screen ahead of its 50th anniversary Blu-Ray re-issue.
Italy's Il Cinema Ritrovato Festival Director Gian Luca Farinelli presents a specially selected trio of highlights, including a preview of Bill Morrison's Dawson City Frozen Time – the extraordinary tale of a collection of 533 silent films and newsreels which were lost for over 50 years, buried in a sub-arctic swimming pool deep in the Yukon Territory; brand new restorations from Cineteca Di Bologna's L'Immagine Ritrovata labs as part of In Search of Colour shorts programme with live piano accompaniment from Stephen Horne; plus a 40th anniversary showing of D.A. Pennebaker's newly restored music festival classic Monterey Pop.
British film is celebrated with a special showing of a new 4K digital restoration of Oscar-winning drama Howard's End celebrating its 25th Anniversary BFI re-release. This 1992 masterpiece from Ismail Merchant and James Ivory is presented by Academy Award-winning set decorator for Howard's End, Ian Whittaker. Academy-Award nominated producer Stephen Woolley presents highlights from the wartime Girls Like Us season at BFI Southbank, including Millions Like Us with Author Lissa Evans.)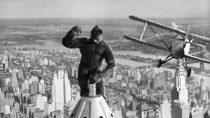 In this 50th anniversary year of the Sexual Offences Act of 1967, Cinema Rediscovered also mark 50 years since the passing of playwright Joe Orton with a 30th Anniversary showing of Prick Up Your Ears and a new restoration of Entertaining Mr Sloane.
The India on Film strand part of UK/India 2017 with BFI, British Council, South West Silents and Asian Arts Agency includes Satyajit Ray's exquisite film The Music Room ahead of its UK Blu-Ray release in August with an introduction by film historian David Robinson; Celluloid Man, a tribute to film archivist and cinephile P.K. Nair and Panorama of India: A Journey Through the Archive, a specially curated programme, selected from the BFI National Archive's unparalleled collection of rare films of pre-Independence India, from the earliest days of Indian cinema. The newly digitised online collection of 300 films will be accessible to audiences via the BFI Player in August.
Additional special events include a 50th anniversary showing of Guess Who's Coming to Dinner alongside comic-horror hit Get Out; and Daughters of the Dust, the movie which inspired Beyoncé's video album Lemonade, presented by black cultural collective Come The Revolution; critic/curator Tara Judah presents a new digital restoration of Lizzie Borden's feminist sci-fi feature Born in Flames with writer/curator Karen Alexander, author Sophie Mayer and programmer Muffin Hix and feminist-horror collective The Final Girls present Sidney J. Furie's cult film The Entity (1982.)
Following other festival announcements such as the Manipulating The Message strand, including the Opening Night 40th anniversary screening of Sidney Lumet's Network; work by Orson Welles, Billy Wilder, Gus Van Sant, Alexander MacKendrick and the UK premiere of Lewis Milestone's restored The Front Page; a complete 10-hour screening of Krzysztof Kieślowski's TV epic Dekalog plus the UK premiere of Herbert Kline's Museum of Modern Art, New York's restoration of Lights Out in Europe, these new additions to the Cinema Rediscovered programme look set to make this unique celebration of vintage cinema a firm fixture in the UK festival calendar .
The weekender is followed by a UK tour of selected highlights in venues including Chapter (Cardiff), Broadway (Nottingham), Home (Manchester), QFT (Belfast), Filmhouse, (Edinburgh) Showroom (Sheffield), mac (Birmingham) and Exeter Phoenix. A new partnership with MUBI also complements the Cinema Rediscovered experience online for audiences across the UK.
Editor-in-Chief at Moviescramble. A Fan of all things cinematic with a love of Film Noir, Sci-Fi and Julia Roberts in Notting Hill. He hopes to grow up some day.
Latest posts by John McArthur (see all)