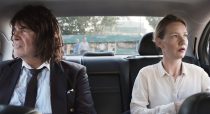 In association with Thunderbird releasing we are offering the chance to win a copy of the highly acclaimed German drama Toni Erdmann. From acclaimed writer-director Maren Ade, the film is a remarkably touching and outrageously funny portrait of an offbeat father-daughter relationship.
Sandra Hüller plays Ines, a highly-strung career woman whose life in corporate Bucharest takes a turn for the bizarre with the arrival of her estranged father Winfried (Peter Simonischeck). A practical joker with a liking for silly disguises and childish pranks, Winfried attempts to reconnect with his daughter by introducing the eccentric alter ego Toni Erdmann to catch Ines off guard, not knowing how capable she is of rising to the challenge. The breakout hit of last year's Cannes Film Festival and the recipient of universal critical acclaim, Toni Erdmann is as humanist as it is absurdist – a comedy about the importance of celebrating the humour of the everyday.
To win a copy of the film on DVD please fill in the form below with the answer to the following question.
Who plays the title role of Toni Erdmann?
The competition ends at 23:59 on the 4th of July. Moviescramble will not pass on your details to anyone else. The editor's decision is final.
Toni Erdmann is out now on DVD and Blu-Ray.
Editor-in-Chief at Moviescramble. A Fan of all things cinematic with a love of Film Noir, Sci-Fi and Julia Roberts in Notting Hill. He hopes to grow up some day.
Latest posts by John McArthur (see all)