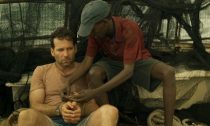 In association with premier comms we are offering the chance to win a copy of the new film Extortion. Kevin Riley (Eion Bailey) is a successful doctor who has worked hard to secure his family's future. When the long hours take a toll on his relationship with his wife, Julie (Bethany Joy Lenz), and son, they decide to take a family holiday to the Caribbean. However this was not the break they pictured, and the holiday takes a dangerous turn when they become deserted on an island several miles from the mainland.
When a boat comes along the family's hopes of rescue are raised, but are quickly dashed when its cold-hearted skipper, fisherman Miguel Kaba (Barkhad Abdi), demands one million dollars in exchange for safe harbour. A tense stand-off ensues between Kevin, who is fighting to protect his family; and Miguel, whose interests lie squarely with getting his pay off – at any cost.
Featuring an outstanding central performance from BAFTA winner and Oscar nominee Barkhad Abdi, alongside big and small screen stalwart Danny Glover, Eion Bailey and Bethany Joy Lenz.
To win a copy of the movie on DVD fill in the form below with the answer to the following question.
What is the name the Tom Hanks film that featured BArkhad Abdi?
The competition ends at 23:59 on the 8th of July. Moviescramble will not pass on your details to anyone else. The editor's decision is final.
Extortion is out now on DVD and Digital platforms.
Editor-in-Chief at Moviescramble. A Fan of all things cinematic with a love of Film Noir, Sci-Fi and Julia Roberts in Notting Hill. He hopes to grow up some day.
Latest posts by John McArthur (see all)