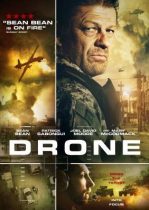 What happens when technology keeps you one step removed from the reality of what you do for a living?  That's the dilemma one man must answer as explosive thriller Drone lands on DVD and digital platforms from July 3rd courtesy of Signature Entertainment. Drone pilot and family man Neil (Sean Bean) has spent his career conducting deadly, covert missions overseas from the comfort of his suburban hometown. When an enigmatic, Pakistani businessman (Patrick Sabongui) manages to track Neil down at his home seeking revenge, Neil must confront the consequences of his actions.
Also starring Mary McCormack and Joel David Moore, Drone is a supremely timely and electrifyingly taut thriller that examines the consequences of making decisions from afar. Featuring Sean Bean at his stoic best, make sure Drone doesn't fly under your radar this summer.
To win a copy of the film please complete the form below with the answer to the following question
Which character did Sean Bean play in Game Of Thrones?
The competition ends at 23:59 on the 24th of July. Moviescramble will not pass on your details to anyone else. The editor's decision is final.
Drone will be available on DVD and Digital platforms from the 3rd of July.
Latest posts by
John McArthur
(see all)