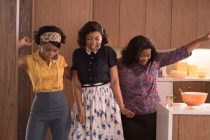 In association with Organic Marketing and 20th Century Fox we are offering the chance to win a copy of the award winning drama Hidden Figures. Katherine Johnson (Taraji P. Henson), Dorothy Vaughn (Octavia Spencer) and Mary Jackson (Janelle Monae) served as the brains behind one of the greatest operations in history: the launch of astronaut John Glenn into orbit. This stunning achievement restored the nation's confidence, turned around the Space Race between Russia and the U.S.A., and galvanised the world. The visionary trio crossed all gender and race lines to inspire generations to dream big.  
Directed by Theodore Melfi , and written by Allison Schroeder, Hidden Figures was nominated for Best picture, Best Adapted Screenplay and Best Supporting Actress for Octavia Spencer at the 89th Academy Awards.
To win a copy of the movie on DVD please fill in the form below with the answer to the following question.
Which Oscar winner played the part of Al Harrison in the movie?
The competition ends at 23:59 on the 26th of July. Moviescramble will not pass on your details to anyone else. The editor's decision is final.
Hidden Figures will be available on DVD, Blu-Ray and Digital platforms from the 3rd of July.
Hidden Figures_Featurette Clip_Dorothy Vaughn from Organic Publicity on Vimeo.
Editor-in-Chief at Moviescramble. A Fan of all things cinematic with a love of Film Noir, Sci-Fi and Julia Roberts in Notting Hill. He hopes to grow up some day.
Latest posts by John McArthur (see all)