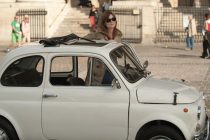 As part of the Comedies a La Carte collection from distribution company Under The Milky Way is the Gallic comedy Love At First Child.  Gabrielle (Isabelle Carré) is a single mother, her 17-year-old daughter Claire is pregnant, however the child's father Simon has no desire to be involved with his future baby. When Gabrielle takes matters into her own hands and asks Simon's father Ange (Patrick Bruel) for help, an unexpected relationship begins.
The film will be available on all VOD platforms from the 11th of July.
Editor-in-Chief at Moviescramble. A Fan of all things cinematic with a love of Film Noir, Sci-Fi and Julia Roberts in Notting Hill. He hopes to grow up some day.
Latest posts by John McArthur (see all)