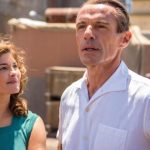 The first teaser trailer for the new French movie, The Odyssey, has just been released. The film is directed by Jérôme Salle and stars Audrey Tautou , Lambert Wilson and César Award winning actor Pierre Niney . It is set to open in the UK and Ireland on 18 August 2017.
The film examines the life of ocean-explorer and adventurer Jacques Cousteau, one of the iconic figures of the 1960s.  1948. Jacques Cousteau, his wife and his two sons are living in paradise, in a beautiful house overlooking the Mediterranean. But all Cousteau can think of is adventure. Thanks to his invention, an independent aqualung allowing divers to breathe under water, he has discovered a whole new world. Now all he wants to do is explore this world. And he is willing to sacrifice everything to achieve this.
Editor-in-Chief at Moviescramble. A Fan of all things cinematic with a love of Film Noir, Sci-Fi and Julia Roberts in Notting Hill. He hopes to grow up some day.
Latest posts by John McArthur (see all)