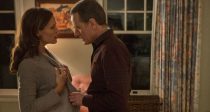 Just out is the trailer for the forthcoming film, Wakefield, starring Bryan Cranston. Wakefield follows the story of successful suburbanite Howard Wakefield (Bryan Cranston who takes a surprising detour from family life when it all starts to get too much, and vanishes without a trace. Hidden in the attic of his carriage house garage, surviving by scavenging at night, Howard secretly observes the lives of his wife, his children and his neighbours as they learn to live with his unexplained disappearance. But has he left his family, or has he left himself?
Alongside Cranston there is some strong support in the form of Jennifer Garner and Beverly D'Angelo. The film was written and directed by Robin Swicord who is best known as the writer on The Curious Case Of Benjamin Button.
Wakefield is out on digital platforms on July 28th and on DVD from July 31st, 2017
Editor-in-Chief at Moviescramble. A Fan of all things cinematic with a love of Film Noir, Sci-Fi and Julia Roberts in Notting Hill. He hopes to grow up some day.
Latest posts by John McArthur (see all)