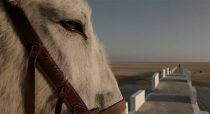 The truth may be stretched thin, but it never breaks, and it always surfaces above lies, as oil floats on water." Miguel de Cervantes Saavedra, Don Quixote
Winner of Best Documentary Feature at the Edinburgh International Film Festival, Spanish-born Chico Pereira's new film Donkeyote is the charming tale of septuagenarian Manuel Molera and his endearingly eccentric plans to head out West to America with his Donkey, Gorrión, to walk the Trail of Tears.
As with Pereira's previous outing Pablo's Winter (2012), the film's central protagonist is a stubborn, resolutely steadfast figure who simply won't take no for an answer. Against the better judgement of his doctor and in spite of well-meaning concerns raised by his long-suffering daughter regarding his physical health, Manuel sets forth on this truly epic, two thousand mile long journey in earnest. However the sheer scale of Manuel's undertaking soon becomes apparent, and with his blind ambition and unshakeable convictions he appears to be cast from the same mould as Miguel De Cervantes famous fictitious character, Don Quixote. It is not only Quixote that Manuel seems to share a likeness to however, comparisons can also be reasonably made with ex-army veteran Alvin Straight in David Lynch's luminous, lyrical film The Straight Story (1999).
Alvin is also in his 70s when he sets out on a quest to visit his ill brother, and like Manuel he chooses a somewhat unconventional means of transport for such a long journey: a lawn-mower. To further comparisons, Alvin also has a daughter, Rose, who whilst betraying initial reservations about the trip still understands just what it means to her father. This same kind of inverted father-daughter relationship whereby the daughter becomes the protector to her wayward, free-spirited father gets repeated in Donkeyote – at one stage the daughter simply responds with "I know" when Manuel comments on his desire to continue walking.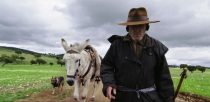 This consciously agrarian lifestyle that the two enact is however now something of a tired relic from times passed, from the American Frontier era when cowboys used to roam the land. After all, Manuel and Alvin both sport wide-brimmed Fedora's, whilst the classic Western image of the cowboy's horse is comically and somewhat absurdly substituted in the two films for a donkey and lawn-mower respectively. With its clear utilising of Western iconography it, therefore, seems appropriate that much of Donkeyote takes place close to Almeira, an area exploited by Leone when filming his famed 'Dollars' Trilogy.
With its numerous dramatic, dawn to dusk long shots, the cinematography for Donkeyote also resembles a 1960s Western. For instance, one passage features Manuel locked in something of a western stand-off with his donkey in a delightfully droll scenario in which Gorrión refuses to cross a footbridge. This 'scene' is shot just like a Leone film with a cross-cutting between close-ups of fixed stares, and it just one of several other moments where reality seemingly gives way in part at least to fiction.
The film's slightly surreal yet poignant closing shot sees Manuel framed against this magnificent backdrop of a mountain range dotted with windmills. Clearly a sly symbolic nod to the Cervantes novel, this final image seemingly elevates the film into the realm of the chimerical, the dreamlike. This fitting coda further shows how documentary cinema is an artistic practice in its own right, and that any attempts to discern documentary from fiction are grossly misguided. Somewhat reminiscent of the sublime sequence in Werner Herzog's Signs of Life (1968), the shot is also a possible instance of an 'ecstatic truth', something that Herzog himself identifies as being 'a mysterious and elusive truth which can be reached only through fabrication and stylization'.
With its own expert blending of reality and artifice, Donkeyote offers moments of genuine insight into the human condition and the triumph of the will. A fully deserved winner at this year's EIFF, it is simply a must see for any documentary film fanatic. Go See.

Latest posts by
Benjamin Brown
(see all)