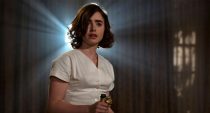 Rules Don't Apply comes to us from Warren Beatty, having been both written and directed by the veteran actor. Set between the late 1950's and early 60's, the film tells us the story of Frank Forbes (Alden Ehrenreich), a new driver for film studio RKO, who is enlisted by legendary director Howard Hughes (also played by Beatty) to drive for one of his contracted actresses, Marla Mabrey (Lily Collins).
You'd think that Howard Hughes himself would be the main focal point of the film, but instead of making him the central character from the get-go, Hughes isn't even introduced until about half an hour in, instead focusing on Marla and Frank's relationship and each of their individual goals. Howard Hughes received a lot of attention in Martin Scorsese's 2004 film, The Aviator, where Hughes was memorably portrayed by Leo DiCaprio. The version we see in Rules Don't Apply is very different, to say the least, as he is not only older here but also presented as less formidable, more fragile almost. His mental health issues are brought to the foreground, but as the focus shifts to him more in the second half of the film, his character opens up and the mystery is stripped away from his character somewhat.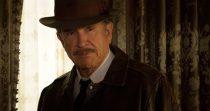 The pacing's a bit off, often it felt like great stretches of the film was just people driving to different places, and things didn't get truly interesting until Hughes was introduced, and even that was stilted and off. Lily Collins is my favourite performance, as she admirably showcases Marla's character development from sheltered religious Methodist to more experienced Hollywood actress. Matthew Broderick also takes a turn as Levar, Hughes's lead driver, and Frank's business partner, in a good performance that oozes authority and respect for Hughes.
The film certainly looks very nice. It manages to capture that fifties cleanliness vibe very well and includes some very beautiful vistas in its various locations. The soundtrack is jazzy and light, and does some interesting things with its lighting, particularly when Hughes is first introduced. it does have some bizarre editing choices, though. Sometimes it'll cut straight to another scene, completely out of the blue, with your head spinning and wondering where all the characters from the previous scene have gone to.
All in all, Rules Don't Apply is a slightly off-colour look at the closing days of Howard Hughes's corner of Hollywood, even though it felt like the film wanted to focus on Frank and Marla's story. Hughes becomes such an important presence within the world that Frank and Marla both get drowned out in the noise. It's like the film simply couldn't resist showing us more of him, knowing that his representation is what the people have come to see. 
Latest posts by
Matthew Lanceley
(see all)