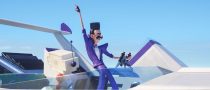 After letting the Minions take the spotlight in their first solo film, Gru (Steve Carrell) returns to the forefront in The Despicable Me 3. He has left his villainous past behind him, working for the Anti-Villain League (AVL) with his wife Lucy (Kristen Wiig). When they fail to capture the nefarious Evil Bratt (Trey Parker), they are fired from the AVL. With no money to support his family, Gru rejects calls from the Minions to turn back to crime, causing a revolt. Gru then discovers he has a long lost twin brother, Dru (also Steven Carrell) he learns that wrongdoing is a family business and maybe he has one last heist left in him.

The opening scene is captivating and hilarious. We're introduced to Evil Bratt, a child star whose career was destroyed by his puberty, now having grown up to be a parody of himself. He's an 80's loving throwback to kid's TV, brilliantly voiced by Parker. He overacts wonderfully as his villain is granted time to flourish.
Surprisingly the Minions take a back seat for this outing. Although their solo movie is the most poorly critiqued of the franchise, it also made the most money raking in over a billion dollars at the box office. Arguably, they do work best in small doses and the scenes they feature in here provide many laughs, most notably their jailhouse outing.
With the Minions getting their own side quest, The Despicable Me 3 is filled with other subplots. By the midway mark a couple of them feel like filler while Gru and Dru's dynamic suffers from underdevelopment. The formulaic nature of the script isn't an issue but it's strange to focus on other characters whose story goes nowhere and doesn't tie into the third act.
Not that kids will likely care about the plot entanglements. The set pieces are beautifully animated, with vibrant colours. Directors Pierre Coffin and Kyle Balda allow the shot to linger; the audience able to soak in what's on display.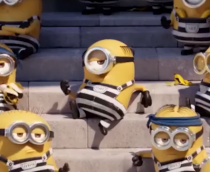 Younger audiences, and adults for that matter, may grow restless at the Minionless scenes as The Despicable Me 3 looks to showcase all the characters in the series in an attempt to prove it's not a one trick pony, or maybe set up other spinoffs. At times it works to the film's detriment but there's enough laughs to be had to keep everyone entertained. It doesn't offer much to remember once the credits roll but with a short runtime and energetic pace, The Despicable Me 3 is a decent instalment to the franchise and ends with a large hint that it isn't done yet.
Latest posts by Thomas Simpson
(see all)