When it comes to film making , sometimes, less is more. Debut writer-director Hope Dickson Leach, certainly follows that belief with this ultra low- budget indie about a young trainee vet, Clover (Ellie Kendrick) returning home to her families dairy farm in the south west of England, after learning about the death of her younger brother Harry (Joe Blakemore). His passing was an apparent suicide. The farm itself is on the brink of collapse after the devastating floods that have affected the area, as well as a potential health crisis affecting the livestock.  Her father, Aubrey (David Troughton) whom it becomes clear she has a history of animosity with (Clover repeatedly refers to him by his first name for instance) is struggling to keep things together, and seems in a state of denial about the circumstances of his sons death.
Kendrick, who will be instantly recognisable to Game of Thrones fans, delivers an outstanding performance.  At once, simmering with anger, confusion and anguish as she looks for answers as to what actually happened. She's the backbone of the film. Troughton is just as excellent though. The grief he's suffering is constantly etched all over his face, yet he still maintains a defiant pride, as well as a bitterness toward his daughter.  It's unfortunate that these perfomances probably won't get seen by the larger audience they deserve. It really is a masterclass by both in conveying heartbreaking emotion without being overly melodramatic.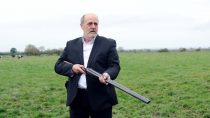 While The Levelling is essentially a study of the grief and subsequent fallout for one family's tragedy. Hope Dickson Leach ensures we get the wider picture of a troubled landscape and a hard-pressed farming economy. The cinematography by Nanu Segal helps give a really authentic look to proceedings. There's a lot of grey overcast, mud and rain. It all adds to the reality that it's not an easy life, and the recent tribulations only compound that fact for our two leads.
This definitely isn't the kind of film to watch if you're after a quick pick me up. It's a somewhat dour, slightly uneasy viewing experience,. But, that's by design and it's delivered with admirable control, and nuanced subtlety by all concerned. An emotional and wonderfully acted story. It'll stay with you long after the credits have rolled.
Latest posts by
David Logan
(see all)