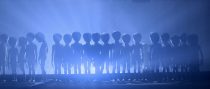 On its 40th anniversary, audiences will be able to enjoy Steven Spielberg's science fiction adventure in a new 4K digital print for the first time. Made in 1977, following the success of Jaws, this is a compelling story about a group of people who try and contact alien intelligence. The new print will premiere at hte Venice film festival in August and will then screen internationally from the 15th of September.
Electrical lineman Roy Neary (Richard Dreyfuss) encounters a UFO on a deserted road whilst investigating a major power cut. He becomes increasingly obsessed with UFOs and subliminal messaging following his experience, distancing himself from his wife and children but drawing him closer towards parallel investigations being conducted by scientists, the military and other survivors of encounters who are attempting to communicate with the mysterious otherworldly presence.
Close Encounters of the Third Kind will be showing at cinemas across the UK and Ireland, including at London's Picturehouse Central and Vue during September, and some of Europe's major film institutions such as the Danish Film Institute, the Swedish Film Institute, Sitges International Fantastic Film Festival in Spain and Festival Lumière in France. Audiences will also be treated to a short about the making of the film which includes an all new interview with Steven Spielberg.
If you can't make a screening there will be a home release celebrating the anniversary this autumn with an all-new 4K Restoration on 2-Disc Remastered Blu-ray, 4K Ultra HD & Limited Edition 4K Ultra HD "Light and Sound" Gift Set.
Editor-in-Chief at Moviescramble. A Fan of all things cinematic with a love of Film Noir, Sci-Fi and Julia Roberts in Notting Hill. He hopes to grow up some day.
Latest posts by John McArthur (see all)