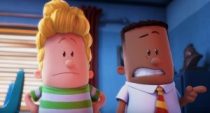 It's been many years since I've read a Captain Underpants book. I loved them as a kid, with its absurd and reliably funny story lines, populated with likeable characters, providing me with an incentive to continue and develop as a bona fide bookworm. When I heard about the movie adaptation, I met the news with some trepidation, but after having seen it, I'm confident that David Soren's adaptation does the books justice.
The story follows two serial pranksters and amateur comic book writers, George and Harold, as they wreak havoc on their Elementary school. After accidentally brainwashing their strict Principal into believing that he's a superhero of their own creation, the eponymous Captain Underpants, George and Harold try to keep a lid on things.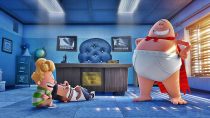 This is one of the most visually active films I've seen in years. Not an inch of the frame is wasted, and a good thing too, because one of the key aspects that the film carries over from the books is the slightly surreal and clever visual design. This, in turn, sets up dozens of sight gags which use this distinctive style to their advantage, making for a very busy film. The voice acting is top-notch, with Ed Helms lending his voice to Captain Underpants, and Kevin Hart and Thomas Middleditch making up our main duo of George and Harold. Ed Helms, in particular, is great at showing the two sides of Cap Underpants' personality, sometimes saying lines taken verbatim from the books (particularly the heroes' signature catchphrase, Tra la laaaaaaa!!).
The film manages to be funny without being patronising to its audience, a convenient side effect of its absurd nature, and still offer something for the whole family. The jokes come thick and fast, and with a reliable hit rate, it is one of the more consistent family animations of recent years. It manages to do toilet humour right (this is best shown by the final boss fight being literally against a giant evil toilet) and elevates it to another level.
All in all, Captain Underpants: The First Epic Movie is a lovely surprise, an adaptation done right, which currently is a rarity. If I had any criticism, it's that a couple of the jokes went on a bit too long for me, and if you're not a fan of breaking the fourth wall then this film will irk you in a couple of places. Other than that, it's a great piece of family friendly entertainment that you are guaranteed to enjoy more than you think you will.
Contributor at moviescramble
Latest posts by Matthew Lanceley (see all)