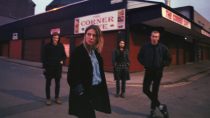 On The Road follows North London rock four-piece Wolf Alice as they take to the streets of the UK to promote their debut album, My Love Is Cool, for the last time. Driving from city to city, playing 16 cities in three weeks, the band are joined by Estelle (Leah Harvey), an intern with the band's record company, who will be helping the band with their promotional duties, accompanying them as they visit local radio stations and give interviews to the press. Estelle strikes up a intimate friendship with Joe (James McCardle), a member of the band's road crew, and through their eyes, we see both the magic and monotony of life on the road, giving us a glimpse behind the scenes of a passionate young rock band in their searing prime.
The film, directed by BAFTA winning filmmaker Michael Winterbottom, follows British music stars Wolf Alice on tour and stars James McArdle and introduces Leah Harvey.
On The Road is released in the UK & Ireland on 29 September.
Latest posts by
John McArthur
(see all)